Karatbars Denies Scandall Allegations
November 14, 2019
By Team Business For Home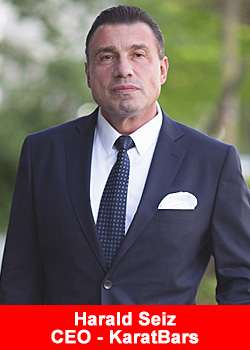 According to Germany based Karatbars statement:
No Scandal: Karatbars Denies Allegations
The German gold and technology company Karatbars is vehemently denying recent allegations from the German business journal 'Handelsblatt', claiming that investigations have been launched into the company's KBC crypto coin and gold reserves are not available.
The allegations imply that investors have incurred losses. Karatbars denies the allegations and provides a rebuttal. "No customer or partner has ever incurred losses due to Karatbars and its products", says Harald Seiz, CEO of Karatbars.
Legal steps are being considered.
"We are not aware of any official investigations. We are totally transparent. We have nothing to hide. If there are any open questions, we will answer them. We are of course cooperating to the fullest extent with the responsible authorities and are very interested in finding an explanation for any misunderstanding as soon as possible,"
added Seiz.
It should further be clarified that Karatbars International GmbH with headquarters in Stuttgart is not the issuer of the coin. The issuer of KaratGold Coins (KBC) and Karatcoinbank Coins (KCB) is the Karatbit Foundation with headquarters in Belize.
BaFin (German Federal Financial Supervisory Authority) used a fake website with the address www.karatgoldinternational.com as the basis for its verification. Karatbars has been pursuing legal action against this website since September 2019, since it has been publishing false information.
Addressing his customers and sales partners, Seiz said:
"There is no cause for concern. We are on track with all our projects. This is only someone trying to get in the way of Karatbars' success. It won't work!" A blockchain-based mobile phone will be presented to the public as early as next week, which will also set new standards.
Furthermore, it is said that German customers or contract and sales partners were never sold the KBC cryptocoin; it was apparently only a free bonus gift that came with other Karatbars products. Karatbars and other businesses linked to the company generally do not sell products subject to the publication of a prospectus.
"The coin issued is a utility coin that is not subject to the publication of a prospectus",
says Seiz.
This is precisely what the European Banking Authority (EBA) also confirmed in an official statement (https://eba.europa.eu/eba-reports-on-crypto-assets). BaFin publications also provide similar clarifications in this context (https://www.bafin.de/…/BaFinPerspektiven/2018/bp_18-1_Beitr…).
The ICO phase for Karatbars' second cryptocoin KaratCoinBank (KCB) is currently still underway and will not be concluded until 15 December. Compliance with the applicable law has always been observed. If it becomes necessary, legal steps will be initiated, according to Seiz.
Karatbars announced a major information campaign for investors, customers, media and authorities at the end of the year. There are apparently great and highly promising plans in store, especially in the area of blockchain, and the company intends to provide the public with more comprehensive and specific information than in the past.
"The crytptocurrency and blockchain market is barely regulated at this time. That causes problems in many respects. It would be very helpful to have more transparency and to clarify the rules of the game in order to unlock the potential of these technologies", says Seiz.

"We are therefore calling on authorities and governments to establish sensible regulations and an international agreement." This would support the market and limit abuse. Karatbars wants to be actively involved in this and the setting of standards. For example, there are plans to set up blockchain academic chairs at several universities in order to shed more light on these difficult subjects in future.
…..
Clarifications from BaFin:
"Utility Tokens
With respect to pure utility tokens (app tokens, product use tokens, consumption tokens), the focus is on the sole use for purchasing real-economy goods or services and not on a financial consideration. Utility tokens are not e-money if there is no third-party acceptance or they are only issued in exchange for other payment tokens (such as Bitcoin or Ether). With respect to pure product use tokens, there is also much to suggest that their issue does not induce any authorisation requirements under the Banking Act, the Payment Services Supervision Act or the Investment Code.
Moreover, the possibility of classifying such tokens as a financial instrument pursuant to the Banking Act is also often ruled out, meaning that any trade-based services performed exclusively with these tokens on the secondary market do not require authorisation. In contrast to virtual currencies, pure product use tokens are not designed as means of payment and thus do not qualify as units of account either; as a general rule, they also do not fall under the concept of other financial instruments pursuant to section 1 (11) of the KWG. However, because of the many hybrid forms, tokens that display elements of both product use tokens and of a virtual currency or securities tokens often require a more in-depth assessment."
Source:
https://www.bafin.de/…/BaFinPerspektiven/2018/bp_18-1_Beitr…
www.karatbars.com
www.karatgold.sg
www.karatpay.com
www.k-merchant.com
www.karatbit.com
www.impulse.technology
www.karatbars-event.com
About Karatbars International
Karatbars International was founded in 2011. The company specializes in the sale of small gold bars and gift items in gold bullion.
The headquarters and the logistics center of Karatbars International is located in Stuttgart, Germany. It is responsible for the support, marketing, customer and partner communication, execution and delivery of orders. Headquarters also co-ordinates the opening of new countries throughout Europe.
Deliveries in smaller quantities are packaged under video surveillance at the headquarters of Karatbars International, and shipped daily via FedEx.
Our clients range from individuals and families to consumers and traders. We value every client of Karatbars and align our company to better serve our clients' needs. Our client base is supported by the efforts of our affiliate partners around the world.
Get more information, fact and figures about Karatbars, click here for the Karatbars overview.