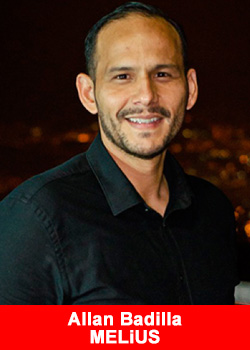 Allan Badilla Achieves Presidential Diamond Rank At MELiUS
December 1, 2019
SPANISH VERSION BELOW
Indisputable leader Allan Badilla hammered a massive success, breaking industry records with a whopping commission of $65,000 earned after hitting the rank of Presidential Diamond—all in less than two days in MELiUS.
Allan recently unveiled his decision to be part of MELiUS, and what ensued is just remarkable. Aside from the apparent enormous amount he closed, he was the catalyst that helped over tens of thousands of people around the globe.
In his recent statement, he unveiled what contributed to his decision to join MELiUS.
"In recent weeks, we have met with more than 50 Presidents and Vice-Presidents of companies. We have spent hundreds of hours conversing, discussing.

However, when the time has come for the final verdict, the decision was made based on my 13 years of experience in the industry, keeping in mind the most important points we value:
Company Vision
Services
Payment System
Educational System
Time in the Market
There is no doubt that we made the best choice. That is why today, I want to thank the owners and founders of MELiUS Monir, Moyn, and Ehsaan Islam for all the support they have given the whole team and me. I also want to thank the great Jose Ardon for his perseverance and for opening the doors to this great opportunity. Onwards, the goal is to have an organization of more than 50,000 people with 50 diamonds earning above $ 30,000."
Following this extensive accomplishment, MELiUS Founders have extended their utmost admiration to their newest Presidential Diamond:
"We are profoundly thrilled with what Allan has achieved in 48 hours and can't wait to witness the next record-breaking move he'll execute in his next 48 hours and beyond with MELiUS. 
He's a man who works tirelessly for his team, and everything he does is a clear demonstration of what a true leader is. His enthusiasm, hard work, and passion, plus professional ethics are commendable; we are proud that he's part of our growing family."
Allan is a firm believer of residual income. Prior to testing his waters in the industry, he used to be a Journalist and Marketing Director but felt like he was becoming a slave to his job and so was determined to be his own boss.
A former associate has introduced him to Network Marketing has fallen deeply in love with it since. At present, he's one of the most prominent, highly regarded leaders in Latin America and around the world.
Disclaimer: Everyone's results vary and are not typical. Just like with any business it requires hard work, skillset, and dedication. Someone results can be exceptional than others.
About MELiUS
MELiUS is a next-generation ecosystem made up of the MELiUS node – a leading education platform – and MELiUS Marketing – a powerful marketing platform with a comprehensive set of tools for independent business owners.
The MELiUS ecosystem uses blockchain technology, to offer a decentralized, transparent, and empowering space for independent business owners to interact and pursue their personal goals.
For more information please visit www.thinkmelius.com
SPANISH VERSION
El líder indiscutible Allan Badilla logró un éxito masivo al batir récords de la industria con una enorme comisión de $65.000, ganados luego de alcanzar el rango de Presidential Diamond, todo en menos de dos días en MELiUS. Los récords de la industria han sido superados.
Allan recientemente reveló su decisión de ser parte de la compañía más rebelde de la industria, ¡y el resultado es más que notable! Aparte de la aparente enorme cantidad de cierre, fue el catalizador que ayudó a más de decenas de miles de personas en todo el mundo.
En su reciente declaración, reveló lo que contribuyó a su decisión de unirse a MELiUS.
"En las últimas semanas, nos hemos reunido con más de 50 presidentes y vicepresidentes de empresas. Hemos pasado cientos de horas conversando, discutiendo. Sin embargo, llegado el momento del veredicto final, la decisión se tomó en base a mis 13 años de experiencia en la industria, teniendo en cuenta los puntos más importantes que valoramos:
Visión de la Empresa
Servicios
Sistema de Pago
Sistema Educativo
Tiempo en el Mercado
No hay duda de que tomamos la mejor decisión. Por eso hoy quiero agradecer a los propietarios y fundadores de MELiUS Monir, Moyn y Ehsaan Islam por todo el apoyo que han brindado a todo el equipo y a mí. También quiero agradecer al gran José Ardón por su perseverancia y por abrir las puertas a esta gran oportunidad. En adelante, la meta es tener una organización de más de 50.000 personas con 50 diamantes que ganen más de $30.000."
Luego de este inmenso logro, los fundadores de MELiUS han extendido su mayor admiración a su nuevo Presidential Diamond:
"Estamos profundamente entusiasmados con lo que Allan ha logrado en 48 horas y no podemos esperar a presenciar las nuevas hazañas que ejecutará en sus próximas 48 horas y más allá con MELiUS.
Es un hombre que trabaja incansablemente para su equipo, y todo lo que hace es una clara demostración de lo que es un verdadero líder. Su entusiasmo, trabajo duro y pasión, además de ética profesional son encomiables; estamos orgullosos de que sea parte de nuestra creciente familia."
Allan es un fiel creyente de los ingresos residuales. Antes de tantear el terreno en la industria, era periodista y director de marketing, pero sentía que se estaba convirtiendo en un esclavo de su trabajo y por eso estaba decidido a ser su propio jefe.
Un antiguo socio le presentó el Network Marketing y desde entonces se ha enamorado profundamente de él. En la actualidad, es uno de los líderes más prominentes y reconocidos de América Latina y del mundo.
Descargo de responsabilidad: Los resultados varían de persona a persona y no son representativos. Al igual que con cualquier negocio, requiere trabajo duro, habilidades y dedicación. Los resultados de alguien pueden ser excepcionales.
Get more information, fact and figures about Melius, click here for the Melius overview.
Recommended Distributors