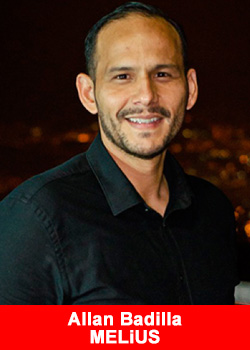 Allan Badilla From Costa Rica Achieves Royal Diamond Rank At MELiUS
December 8, 2019
Spanish Version Below
Once again, Allan Badilla shows us how unstoppable he is.
Just 6 days after he made a massive record-breaking milestone, he hits the Royal Diamond rank and a thumping commission of $140,000 in MELiUS. Allan achieved all these within 8 days of joining the company.
"When you have exceptional leadership, cutting-edge products and services, anything is possible. The moment my team and I decided to join MELiUS, we have been tremendously supported by the company's leadership, most especially by the Founders – Monir, Moyn, and Ehsaan.

A great collaboration and teamwork is something no one can beat, and for that, we're grateful and even more fired up to deliver more transcendent things,"
shares Allan.
This accomplishment is one of the most prominent this industry has seen in years—two of the highest ranks achieved one after the other in four days. Following this unprecedented triumph, our team has gotten a chance to interview Allan, below are excerpts:
What was your life prior to Network Marketing?
I was born in a small town called Junquillo Abajo de Puriscal in San José, Costa Rica. I've spent all my younger years on a cattle farm with my grandparents while I was studying journalism and marketing during college.
I did practice my degree, worked as a marketing director for an international company while I also started in the world of traditional business with a small restaurant and a farm.
How did you discover about network marketing?
An associate of mine told me about this business where I'd learn to enhance my public speaking skills. That's something I am interested in, and so it caught my attention. However, it took me about six months to enter. Funny thing, though, the person who invited me to never really signed up. She still works in a sales company but was the first person to talk to me about network marketing.
Why did you choose network marketing over your previous profession?
I never liked journalism. I used to cover events, and that was awful. Every day, I had to fathom seeing dying, if not dead, people. There were two instances where I ended up being hospitalized for raging criminals I was covering.
On the other hand, I liked marketing a lot, but it felt as if it consumed me. I was a slave to my boss, working twelve hours a day, and never had a work-life balance. So when I fell in love with Network Marketing, I fired my boss for life. I am never going to be someone else's employee ever again.
How is the Allan who first entered network marketing years ago different from what is Allan at present?
I love that question. The first Allan was a real madman; he had no idea of ​​leadership; he halted the teams very quickly. The Allan of today is my best version. I moved forward and continued with a lot of energy, strength, and passion, but I no longer urge the team with pressure, instead help and lead them always to be better.
What have been the key path in your career as a network marketer?
One must understand the importance of the right approach. Find a mentor, dedicate a lot of investment in time, but also focus on personal growth and development.
What advice would you give to a young person who is just starting a network marketing business?
Enjoy the process of freedom. No one can skip it, and everything is worth it.
Disclaimer: Everyone's results vary and are not typical. Just like with any business it requires hard work, skillset, and dedication. Someone results can be exceptional than others.
About MELiUS
MELiUS is a next-generation ecosystem made up of the MELiUS node – a leading education platform – and MELiUS Marketing – a powerful marketing platform with a comprehensive set of tools for independent business owners.
The MELiUS ecosystem uses blockchain technology, to offer a decentralized, transparent, and empowering space for independent business owners to interact and pursue their personal goals.
For more information please visit www.thinkmelius.com
Espagnol
¡Una vez más, Allan Badilla nos muestra cuan imparable es! Apenas 6 días después de haber batido un notable récord, alcanza el rango de Royal Diamond y una comisión de 140.000 dólares en MELIUS. Allan logró todo esto a los 8 días de unirse a la empresa.
"Cuando tienes un liderazgo excepcional, productos y servicios de vanguardia, ¡todo es posible! En el momento en que mi equipo y yo decidimos unirnos a MELiUS, contamos con el apoyo de la dirección de la empresa, especialmente de los fundadores: Monir, Moyn y Ehsaan. Una gran colaboración y trabajo en equipo es algo que nadie puede vencer, y por eso, estamos agradecidos y aún más entusiasmados para entregar cosas más trascendentes." compartió Allan.
¡Una vez más, Allan Badilla nos muestra cuan imparable es! Apenas 6 días después de haber batido un notable récord, alcanza el rango de Royal Diamond y una comisión de 140.000 dólares en MELIUS. Allan logró todo esto a los 8 días de unirse a la empresa:
¿Como era tu vida antes del Network Marketing?
Nací en un pequeño pueblo llamado Junquillo Abajo de Puriscal en San José, Costa Rica. Pasé todos mis años de juventud en una granja de ganado con mis abuelos mientras estudiaba periodismo y marketing en la universidad.
Llegué a practicar mi licenciatura trabajando como director de marketing para una empresa internacional, mientras que también me inicié en el mundo de los negocios tradicionales con un pequeño restaurante y una granja.
¿Cómo supiste del Network Marketing?
Un socio mío me habló de este negocio en el que aprendería a mejorar mis habilidades para hablar en público. Eso era de mi interés, así que llamó mi atención. Sin embargo, me llevó unos seis meses entrar. Lo curioso, sin embargo, es que la persona que me invitó a hacerlo nunca se inscribió. Ella todavía trabaja en una compañía de ventas, pero fue la primera persona que me habló sobre el Network Marketing.
¿Por qué elegiste el Network Marketing en lugar de su profesión anterior?
Nunca me gustó el periodismo. Solía cubrir eventos y era horrible. Todos los días tenía que entender que veía gente muriendo, si no, muerta. Hubo dos casos en los que terminé hospitalizado por criminales furiosos que estaba cubriendo.
Por otro lado, me gustaba mucho el marketing, pero sentía que me consumía. Era esclavo de mi jefe, trabajaba doce horas al día, y nunca tuve un equilibrio entre la vida laboral y personal. Así que cuando me enamoré del Network Marketing, despedí a mi jefe de por vida. Nunca más volveré a ser empleado de otra persona.
¿En qué se diferencia el Allan que entró por primera vez en el Network Marketing hace años de lo que es Allan en la actualidad?
Me encanta esa pregunta. El primer Allan era un verdadero loco; no tenía idea de liderazgo; interrumpía a los equipos muy rápidamente. El Allan de hoy es mi mejor versión. Seguí adelante y continué con mucha energía, fuerza y pasión, pero ya no insto al equipo con presión, sino que lo ayudo y lo dirijo para que siempre den lo mejor.
¿Cuál ha sido el camino clave en tu carrera como Network Marketer?
Hay que entender la importancia de tener el enfoque correcto. Encontrar un mentor e invertir tiempo, pero también enfocarse en el crecimiento y desarrollo personal.
¿Qué consejo le darías a una persona joven que acaba de empezar un negocio de Network Marketing?
Hay que disfrutar el proceso de ser libre. Nadie puede saltárselo, y todo vale la pena.
Get more information, fact and figures about Melius, click here for the Melius overview.
Recommended Distributors