Ayda Okal From Jordan Achieves Blue Diamond Rank At Success Factory – Dagcoin
December 7, 2019
By Team Business For Home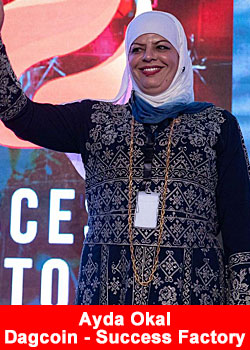 Success Factory is a company that develops its business activity all over the world. The company's branch in the Middle East is represented by the Eagles team, which is also part of the international team Success4All, founded and led by Igor E. Alberts and Andreea Cimbala.
Ayda Okal, from Jordan, has already been featured on our page, and now she can boast a new achievement: the Blue Diamond rank. With little more than 4 years of experience in the network marketing business, Ayda is very active and passionate about her profession:
"First and foremost, it's about the freedom that I got. The freedom to manage my life and take my decisions, and then, of course, financial freedom. And Success Factory is a fantastic opportunity, where your success depends on the success of your team. I have always worked hard, but now I really feel that my effort pays off.
My recent Blue Diamond rank means a lot to me. The main things are trust and confidence. Trust in the company, in its vision and in its founders. I know that the people on the corporate team have their goals very clear and will do everything in their hand to lead this company to the top. And then, self-confidence. This rank is the proof that I can reach my goals however high or impossible they might seem.
You don't need magic, just hard work, good planning and discipline."
Ayda admits that her path to the rank was not easy and full of challenges. People wouldn't easily understand the concept of new money and how they can benefit from it, but Ayda's persistence and trust in the vision of the company kept her going.
"I'm especially proud of myself because I'm the first woman in the Middle East to achieve the rank of Blue Diamond.

It means a lot not only for me, but also for other women who are struggling to find their way to independence and freedom. I think I can be a good example that this is possible.
My goal now is to build an integral society around Dagcoin and keep pace with the latest developments in the world of technology and finance. And my task here is to help poorer people get ahead through personal development and entrepreneurial activity.
With the support of this great project that is Success Factory, my team and I have incredible possibilities to reach more and more people every day and help them improve their lives."
About Dagcoin
We believe that cryptocurrencies are here to be a step up from regular money. This means improving the speed of transactions while reducing the cost, giving access to money to more people with lesser restrictions and limitations, giving more freedom to transact.
And at the same time preventing fraud and illegal activities. Dagcoin was created to fulfil all of these criterias – to become a digital version of money that people can use all around the world.
Our currency is meant for using. This means that in the future you will be able to do everything with dagcoins. That includes getting paid, going shopping, exchanging, taking loans, paying for services, travelling, and almost everything else that comes to your mind. For more information please visit www.dagcoin.org
Recommended Distributors Success Factory