Tobias Hammar From Sweden Achieves Diamond Rank At Success Factory – Dagcoin
December 1, 2019
By Team Business For Home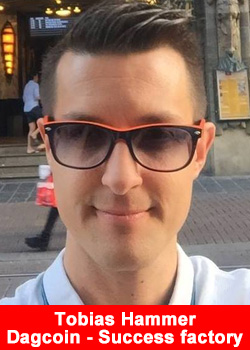 One of the regions that have been active in Success Factory from the very beginning of the project is Scandinavia.
One of the recent achievements belongs to Tobias Hammar, from Sweden. Tobias is a member of the Team Vikings, which is also part of the acclaimed international team called Success4All, founded and led by Igor E. Alberts and Andreea Cimbala. In October this year, Tobias obtained his long-desired Diamond rank.
Tobias Hammar is an experienced network marketing professional with 18 years in the industry. Curiously enough, it was his father and his brother who introduced him to networking, which is a situation, as he admits, that is not very common in this profession, where the rejection of one's own family can become the first and the most difficult obstacle to overcome.
"I was lucky enough to receive full support and training from my own family. Actually, I'm still working together with my father, only that now I am his sponsor! 
When I found out about network marketing, I got attracted by this possibility to build a successful business with the help of people with experience. So, I started learning, not only from my family, but from the books and tapes of Les Brown, Bob Proctor and Jim John. I was really impressed by everything I found."
In spite of coming from a very supportive environment, Tobias admits that his beginnings in the business were not as easy as he could have expected. But in a failure, there is always a lesson.
"The first years in network marketing are about learning by doing. It's normal that you make mistakes, but it is important that you learn from them. When you are a beginner, you often try to find shortcuts. It's not the right way. You just need to learn to work with the system. When you work with the system, the system will work for you. It's called duplication. I can't even exaggerate its importance for every success in this industry.
Network marketing gives millions of people in the world the opportunity to have extra income apart from their salary. But not only that. It gives you a possibility of personal growth and helping other people succeed. This is what I consider the essence of network marketing."
Tobias Hammar joined Success Factory in November, 2017, by the invitation of his mentor Niklas Spasovic. Together with him and Blue Diamond Kristian Mårtensson, they attended the launch of Success Factory in Dubai, 2018, where they had a chance to personally meet the founders of the project Kris Ress and Nils Grossberg.
"After the event, I read the whitepaper and realized that the dagchain technology is the future. It is a fair, safe and eco-friendly global payment solution for billions of people. I spoke about this with my mentor and sponsor Niklas Spasovic, and then, together with Blue Diamond Magnus Johansson we started our journey in Success Factory.
And since then, I have experienced a lot in this company. My results are based on smart goal setting, working hard and helping people get motivated. I also organize smaller educational events for all the team members. Creating success in various aspects of life is an opportunity for everybody, and on the way you will reach your goals. That's a possibility for you in Success Factory."
"I am very grateful to my team and I'm also proud of them, of all my leaders. Not to forget the amazing power couple Igor Alberts and Andreea Cimbala. They represent a very inspiring upline that educates my team at events.
This combined with a FinTech company, with the most humble tech-savvy leadership, I'm sure my team will reach their goals as well as the common goals of us all, which is to build the biggest company on the planet."
About Dagcoin
We are a growing and ambitious team based in Estonia, and our goal is to provide a new alternative currency for everyday use to create a common currency.
Our team is doing it by making cryptocurrency payments lightning fast, keeping the transaction fees unnoticeably low and creating a system as easy-to-use as possible.
When we talk about IT development, then this is a continuous never ending process because we live in the era of technology and there are so many bright minds in the world who come up with brilliant ideas all the time. We aim to implement as many of them as possible in our system.
For more information please visit www.dagcoin.org
Recommended Distributors Success Factory