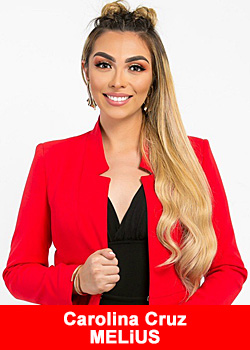 Carolina Cruz & Asdrubal Sanabria Achieve Presidential Diamond Rank At MELiUS
January 21, 2020
Every remarkable milestone has a great story. Twelve hours after officially joining MELiUS, Carolina and Asdrubal have demonstrated what a real power duo can do, from seizing the Emerald rank in 12 hours (generating $10,000 in commission) to hitting the Presidential Diamond on their 20th day with MELiUS. It was undeniably another notable achievement that's been recorded in the industry.
Their success is also of the whole 3,000 people in their organization, having eight people who earn $10,000 per month and more than 100 people who make between $500 to $5,000 a month.
Both born and raised in Costa Rica; they used to live paycheck to paycheck—as they recall, their "childhood hasn't been the best".
At the age of 17, Carolina's life turned upside down when his father was let go from the company he's been with for 30 years. In a snap, her whole family went from living comfortably to being homeless, holding a minimum wage for a family of 4.
Asdrubal, on the other hand, has had to work since he was 18 and has taken over as the family's breadwinner following his parent's divorce. In able to support his mother and three siblings, he painted houses, worked on a coffee plantation, and even wash cars to get ahead and help his family.
Their lives changed when they met at a coffee shop for an opportunity that will reshape their odds. From $600 to $1,000 monthly income from their traditional jobs, they shifted to making $1,800 within a month after joining Network Marketing.
History began when these two young people join with the same vision to help hundreds of people, demonstrating that a united couple could be the best example in the industry, with God as the boss. Today, their story and vision have impacted hundreds of families, aiming to strive the same way they did.
Carolina and Asdrubal's partnership reached a whole new level when they got married. From borrowing their parents' cars to conduct their business to buying their own car and home, plus providing monthly support to their parents, they were indeed able to break free from the challenges of traditional jobs.
Given their past experiences, they uphold the importance of the companies they are part of. Together with their mentor, Allan Badilla, they evaluated over 50 companies before realizing MELiUS is the right home for them.
"We joined MELiUS for three sole reasons. Their leadership, products, and compensation plan. The scope of its technology-based products includes tourism, telecommunications, education, transport, and even financial trading. Their compensation plan is by far the most aggressive we've encountered.
Above all, the ethics, values, and principles of the MELiUS Founders Monir, Moyn, and Ehsaan B. Islam are what we are looking for for so many years.
A company that is truly committed to change the lives and finances of millions of people."
About MELiUS
MELiUS is a next-generation ecosystem made up of the MELiUS node – a leading education platform – and MELiUS Marketing – a powerful marketing platform with a comprehensive set of tools for independent business owners.
The MELiUS ecosystem uses blockchain technology, to offer a decentralized, transparent, and empowering space for independent business owners to interact and pursue their personal goals.
For more information please visit www.thinkmelius.com
Disclaimer: Everyone's results vary and are not typical. Just like with any business it requires hard work, skillset, and dedication. Someone results can be exceptional than others.
Get more information, fact and figures about Melius, click here for the Melius overview.
Recommended Distributors