Daniel Onoja From Nigeria Achieves Diamond Rank At OmegaPro
February 24, 2020
By Team Business For Home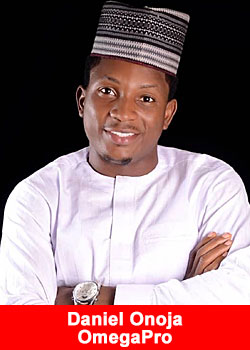 Spearheading the OmegaPro Africa Market since its pre-launch phase, Daniel Onoja is without a doubt an undisputed leader in the company and a force to be watched in the industry.
In a short time he has already built a large organisation, which led him to be recognized as the company's first Diamond for the African market.
Daniel was introduced to the industry of Network Marketing in 2012 through a co-student from the university. It was nothing serious, but in 2015 he launched into the industry professionally and has experienced major success, being able to set up his own IT consulting and project outsourcing firm.
Five months ago Daniel Onoja meet up with Paulo Tuynman and the founders of OmegaPro, and little did he know that this was an opportunity that has impacted Africa on a large scale as seen in the following video:
Daniel says,
"It's a tremendous honor to receive this recognition by business news of Nigeria. Omegapro is a movement across Africa with the intention of changing the third world mindset, to a first world abundant mindset, and you see it everyday in our members taking control of their future,"
To Daniel, mentorship is as important as anything else in life and business. Daniel credits the leadership of Paulo Tuynman and Amira Tuynman, along with many others, as the catalyst that led him to success in Omegapro.
He also considers that Omegapro meets the variables to build a transparent and sustainable business over time.  That is, having adequate support, capital and a reliable corporate team that understands, communicates, and works together with those of us who are in the field. It is rarely seen in the industry.
''I want to sincerely thank and appreciate every single soul that in one way or the other contributed to help me attain this humble position in our dear company OmegaPro, I'm grateful to all the leaders in my Team who trusted and believed in me to run with the vision and build a huge organisation''
About OmegaPro
The mission of OmegaPro is to deliver a secure world class trading experience to all clients – both retail and institutional. We continually invest in new technologies and people, to provide our clients with a diverse range of trading products and an exceptional trading outputs.
Moreover, we put a major emphasis on account security – we use the most advanced tools and encryption protocols and provide plentiful market liquidity to ensure your capital. Thanks to the vast market volume that OmegaPro handles and our strict risk policies, we can ensure that your account with us is secure, while connecting you to the fast paced global markets.
For more information please visit: www.omegapro.world