Florian Ortega Emerges As A Top MWR Life French Leader
March 31, 2020
By Team Business For Home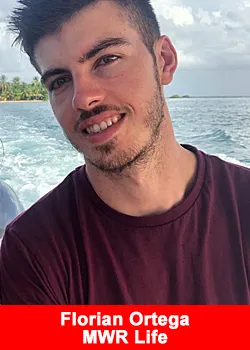 Florian Ortega is a 23-year-old Network Marketer from France. He has proudly represented MWR Life since November 2018 and has quickly climbed the ranks since joining.
Before joining MWR Life, Ortega had no Network Marketing background at all, but he has not let that stop him from making a name for himself in the industry. He worked in several fields before joining MWR Life, but never blossomed in any of them. Ortega often would combine several jobs at once, trying to find the perfect fit, and wanting to succeed and reach his life goals. But he had no knowledge or understanding of how to get what he wanted from life.
One day he was offered the MWR Life opportunity from out of the blue. He jumped at this opportunity to make an additional income from home, and it quickly paid off.
It was at his first MWR Life International Convention in January of 2019, where he truly realized he had a footing in the Networking Marketing Industry. At this event, "he understood everything I could achieve with MWR Life," he states.
"After joining, I soon realized that this was a real business opportunity for me. But before I do anything, I do it thoroughly and with all of my effort and focus.

So I quickly quit my previous work and jumped feet first into a business that finally suited me and my life goals. In just 4 months of activity, I was able to quit my job and become my own boss."
Says Ortega.
Florian earned the rank of District Manager in just 6 months and Regional Manager in 14 months of focused activity. He is developing his team in France and multiple other regions across the world. He honors his rapid expansion to being "100% involved in his business and team members."
Florian also attributes a lot of his success to the opportunity MWR Life provides all of its members and the integrity it has as a company. As one of the fastest-growing companies in the Network Marketing Travel industry, it has been taking over worldwide with its unique membership benefits and their exclusive and proprietary Travel Advantage™ travel booking platform.
"Today, what really makes me excited is that everyone loves to travel, and with MWR Life, they make it easier and more affordable for everyone to do so!

No diploma is required to travel, and almost everyone in the entire population of the world wants to save money and go on fantastic trips. With MWR Life, I can help make travel accessible to everyone." 
"To be a part of the exponential global growth has not only been an honor, but it has been a motivation. To be able to impact and change the lives of thousands of people around the world has been incredible. I am currently very committed to helping others work from home and create financial freedom in their lives. I am very grateful for the accomplishments I have made so far in my journey, but this is only the beginning of my climb to success!"
About MWR Life
MWR Life is a global travel platform that benefits their Lifestyle Consultants with the opportunity to create the lifestyle of their dreams and travel the world. Their Travel Advantage™️ booking platform has discount travel rates on hotels, flights, cruises, resorts, car rentals, activities, and more! Plus, their fully curated Life Experience®️ trips to exotic destinations around the world are helping their members create memories that last a lifetime. For more information, visit www.mwrlife.com
Recommended Distributors MWR Life