Angie Amaya From Colombia Becomes First Female Diamond With OmegaPro
April 14, 2020
By Team Business For Home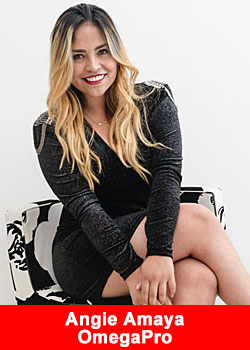 When Angie Amaya set out on her OmegaPro journey under a year ago, she envisioned her accomplishment and is now sharing with us her story.
"This important achievement of reaching Diamond is something I'm grateful to God for, as it's really started a new chapter in my life.
When I started here, I had the dream and the vision of being the first Diamond female in this organization so I could be the example for all the singles and young ladies that are entrepreneurs in the whole world.
And now with thousands of people following us in Latinamerica, it will be the best dream come true for me. We will be a representation of female leadership in Omegapro and this industry and that's the legacy we want to build."
At just 25 years old, Angie details the value the network marketing industry has added to her life and how it's impacting her home country of Colombia.
"I'm proudly from Colombia, a country where people are happy, outgoing, thriving and enterprising. Here I had the chance to undertake and start in this industry, where it allows you to meet wonderful people, manage your own time, work from wherever you are and open markets around the world.
The best part is that my team and I are building together and bringing value to the world where people have the possibility to put to work their digital money through a product and a company that has been fulfilling its investors and advisors increasingly making them happier and more satisfied with their profits. And that's what most people want today."
"So I am very happy for what we have been able to achieve with this important rank as an organization with my team but this couldn't have happened without the help of our magnificent Corporate leadership under Mike Sims, Dilawar Singh, Andreas Szakacs and our G.M. Juan Reynoso.
?Este es el resultado de un Deseo Ardiente❤️??Angie Amaya.

Posted by Angie Amaya on Saturday, 4 April 2020
Thanks to them, I am only a representation of a powerful and victorious team with a very clear goal to be the new era of Network Marketing through extraordinary results and shocking and real stories of inspiration for all young people in the world."
About Omega Pro
The mission of OmegaPro is to deliver a secure world class trading experience to all clients – both retail and institutional. We continually invest in new technologies and people, to provide our clients with a diverse range of trading products and exceptional trading outputs.
Moreover, we put a major emphasis on account security – we use the most advanced tools and encryption protocols and provide plentiful market liquidity to ensure your capital. Thanks to the vast market volume that OmegaPro handles and our strict risk policies, we can ensure that your account with us is secure, while connecting you to the fast paced global markets. For more information please visit: www.omegapro.world
Recommended Distributors OmegaPro