José Rodriguez From Colombia Achieves Diamond Rank At OmegaPro
April 7, 2020
By Team Business For Home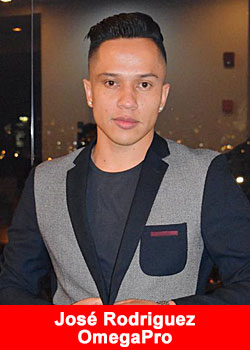 Through his achievement of the coveted Diamond Rank with OmegaPro, the Network Marketing industry has given José Rodriguez a chance to fulfil his childhood dream of helping people while finding his destined career path.
"I am extremely happy for this achievement because it is a dream come true for me. As a child I dreamed of helping many people and I loved to lead. It all started at 14 when I taught social, philosophy and mathematics in the schools in the town where I was born. Continuing as a student and social leader, I enrolled at the University in the city of Bogota.
While there, I worked for a bank to be able to pay for my studies when I had the fortunate encounter with a co-worker who invited me to a conference about network marketing. With the information I had received at this meeting, I began to dream big dreams again and a belief in myself to be able to achieve these dreams was restored. I also gained the belief in this industry as a tool for me and bettering my life and I've not forgotten it since."
I want to thank God first of all for allowing me to enter this industry, and to thank OmegaPro for being the right opportunity that came into my life.

I also thank our corporate team, headed by Dilawar Singh, Andreas Szakacs, Mike Sims and our manager for Latin America Juan Reynoso. These great leaders and mentors lead by example, working with pillars of Transparency, Honesty, Leadership and Teamwork.
I also thank my team because I have been blessed to have great leaders who tirelessly devote much of their time to serving and helping many people, my business partner Andres Tavera who for five years has worked tirelessly toward building a legacy. In this comforting race we have built teams of more than 20,000 people of which I am always in gratitude.
We are blessed to have all the energy, the desire to move on and the backing of a great company like OmegaPro to continue building many success stories in the whole world.
About Omega Pro
The mission of OmegaPro is to deliver a secure world class trading experience to all clients – both retail and institutional. We continually invest in new technologies and people, to provide our clients with a diverse range of trading products and a exceptional trading outputs.
Moreover, we put a major emphasis on account security – we use the most advanced tools and encryption protocols and provide plentiful market liquidity to ensure your capital. Thanks to the vast market volume that OmegaPro handles and our strict risk policies, we can ensure that your account with us is secure, while connecting you to the fast paced global markets.
For more information please visit: www.omegapro.world