Vincent Udoye Achieves Diamond Rank at OmegaPro
April 20, 2020
By Team Business For Home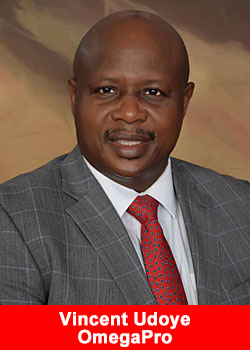 Vincent Udoye was born in Nigeria, and prior to discovering the networking industry was a Marine Engineer and worked as civil servant.
Vincent is a proud husband and father of 5 children, who are at different levels of schooling; primary, secondary schools and to university level. 
''When our 2 eldest daughters were in high school, we knew that it would cost a lot of money for us to send both of them to the university in the US and UK but we decided to go ahead and this decision led us to major financial hardship."
 Vincent has been involved in the industry since 2005, when he saw an opportunity to attain financial independence. Over the years, he has mastered the business through a constant thirst for improvement, determination, and patience. And in 2019, he saw his most significant opportunity yet to continue creating success stories.
 After several months, and in-depth analysis of multiple companies, meetings with top managers and company owners, Vincent joined Omegapro through Paulo Tuynman (General Manager Omegapro) and Dilawar Singh (Co-Founder of Omegapro).
After almost 2 days meeting in the city of Lagos, he made the decision to be the pioneer of Nigeria and position the company worldwide. He says:
 "Times are changing, technology is evolving and Forex was an opportunity that needed looking into. Many new companies have entered the space and most aren't what they claim to be, which in turn has really damaged the industry.

I can tell you that Omegapro is the real deal. When I joined, I knew it was something that had potential to be special, but what they've achieved in their first 12 months has blown me away." 
"The vision was to achieve success not only for myself but also for my team, we have team members hitting ranks in their first couple of weeks, receiving incentives like MacBook Pro and leadership retreats to Dubai. The same people who worked hard with other programs with very little growth.
Now people in my network are earning more in a month with Omegapro than they had earned in their entire time in their previous company.
I'm truly grateful to all the people that have helped me achieve this Diamond rank in less than 8 months! I can't thank them enough and special thanks to OmegaPro for changing my life."
About Omega Pro
The mission of OmegaPro is to deliver a secure world class trading experience to all clients – both retail and institutional. We continually invest in new technologies and people, to provide our clients with a diverse range of trading products and exceptional trading outputs.
Moreover, we put a major emphasis on account security – we use the most advanced tools and encryption protocols and provide plentiful market liquidity to ensure your capital. Thanks to the vast market volume that OmegaPro handles and our strict risk policies, we can ensure that your account with us is secure, while connecting you to the fast paced global markets. For more information please visit: www.omegapro.world