Yerson Duran From Colombia Achieves Diamond Rank At OmegaPro
May 19, 2020
By Team Business For Home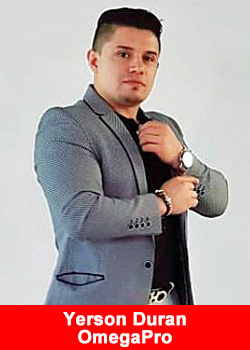 OmegaPro is proud to announce that Yerson Duran of Colombia has achieved the rank of Diamond. In his own words, Yerson shares with us a little of how he got here and what the accomplishment has meant to his life.
"I am beyond happy and grateful that God has allowed me to reach this important milestone in my life. I was introduced to the network marketing industry when I was 34, and it was that moment I realized it is never too late to fulfil our dreams.

I come from an average hardworking, honest and determined family from Colombia and that realization for me came true.
During my time in the industry, I've not only had the chance to help many people, my personal growth has been exponential through the interactions I've had through great leadership. It took a while to change my way of thinking having worked 7 years at night as a Taxi driver.
It wasn't a career that made it easy to get ahead in life, and eventually through what I learned after reading "Rich Dad, Poor Dad" by Robert Kiyosaki that I decided to go all in on this incredible journey.
I realized this industry was designed for people like myself who truly want to fulfil their dreams and goals.
I will be forever grateful as well for this great company, OmegaPro. After reviewing the company information, realizing the transparency and the product we use within the Forex market, I instinctively knew everything was in place to show the world that we have a real opportunity to teach people how to maximize their money using our digital financial platform.
I believe we are making history for the MLM industry through this unique opportunity.
By conquering the Diamond rank and seeing what we had built, seeing the number of people we have helped, all thanks to the support of our corporate team, with Mike Sims, Dilawar Singh, Andreas Szakacs and our general manager for Latin America Juan Carlos Reynoso, it is a great feeling.
I would also like to thank our Blue Diamond leaders Santiago Rozo and Oscar Montoya for their commitment in helping our organization. We realize that we are a team that is here to serve and the goal beyond this achievement is to make a good duplication wo we are able to leave a true legacy behind for so many families."
About Omega Pro
The mission of OmegaPro is to deliver a secure world class trading experience to all clients – both retail and institutional. We continually invest in new technologies and people, to provide our clients with a diverse range of trading products and an exceptional trading outputs.
Moreover, we put a major emphasis on account security – we use the most advanced tools and encryption protocols and provide plentiful market liquidity to ensure your capital. Thanks to the vast market volume that OmegaPro handles and our strict risk policies, we can ensure that your account with us is secure, while connecting you to the fast paced global markets.
For more information please visit: www.omegapro.world