Ashley Walmer Achieves Two Star Director Rank At Emris
June 4, 2020
By Team Business For Home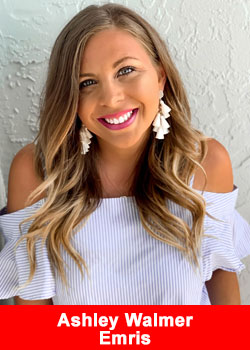 After 17 years in and out of the Network Marketing industry, Ashley Walmer is finding more purpose than ever before as she recently became the first Brand Ambassador to promote to the rank of Two Star Director with EMRIS International.
Ashley had tried her hand at network marketing in her late teenage years, but didn't have much success to show for her efforts. When she found out she was pregnant with her son, Andrew, she felt the same urge to re-evaluate her future, figure out how she could be home with her son and help out financially.
In 2005, Ashley found her way back to the network marketing industry and achieved great success with several different companies over the years. She went on to earn thousands of dollars in bonuses, making a six-figure income, retiring her husband and not having any doubt that she could have success and make money in the industry.
However, what she wasn't so sure about was her TRUST in the industry.
"There were lots of things that made these companies hard to represent," says Ashley. "When I started feeling like the lack of integrity wasn't what I signed up for, I couldn't stay anymore. It was a gut check moment for me."
After leaving her last company, she felt as though there wasn't any company she was willing to pour her heart, sweat, and tears into again.
Ashley then reached out to her long-time friend, Aspen Emry to let her know she had decided to step away from network marketing. Weeks later she received an email from Emry, asking her and her husband to sign an NDA and told her she was co-founding a new network marketing company named, EMRIS International.
"I told her that I was in, even if we're selling paper plates," Ashley jokes, "I knew Aspen's heart, her leadership, her character, her integrity. That's what made it so easy to say yes."
When Ashley found out that EMRIS International was launching with products in the health and nutrition, weight management, and hemp-derived CBD categories it was a no brainer for her. "The co-founders offered me the opportunity not just to join them, and but to be direct to Corporate.  My husband and I were ecstatic about being early adopters in this incredible opportunity!" said Ashley.
At EMRIS International's 2019 Director's Summit, she was asked why she wanted to reach the Vice President rank in the company. She answered,
"I want to be that leader that is able to put all of their time, money and resources into helping others [women] realize their full potential. I wanted more for my family, of course, but to me it's about making an impact for my team."
As top income earner in the company, Ashley is doing just that. In just 6 months, Ashley promoted to Two Star Director. But she is not stopping there. Ashley is on her way to the top, and she plans on taking her team with her.
About EMRIS International
EMRIS International Holdings, LLC is a premium wellness company committed to elevating the human experience around the world through premium, naturally based health and wellness products and the power of social commerce done the right way.
The EMRIS brands, including Synergy by EMRIS, a premium broad-spectrum hemp extract, are marketed globally through a network of independent Brand Ambassadors. Learn more at www.emrisinternational.com