Top International Leaders Susana Rodriguez & Dan Gonzalez Join ByDzyne
June 23, 2020
By Team Business For Home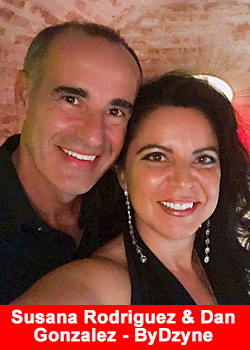 ByDzyne Lands Powerhouse Leaders in Europe in a significant move to expand its global footprint into the dynamic markets of Europe. ByDzyne is pleased to welcome Susana Rodriguez and Dan Gonzalez, prominent network marketing professionals from Spain, to the BDNation family.
Their leadership capabilities and broad experience will be a substantial asset for the European expansion of ByDzyne, starting in Spain and extending to many other significant markets in Europe.  Their career in network marketing started in 2009 and they reached the highest sales ranks in two different companies.
Susana is also a published author having written "How To Make Money From Home With Network Marketing," as well as having deep expertise as a lawyer with a specialty focus on all legal aspects of the MLM profession.
She has consulted for 22 direct sales companies and has mentored more than 54,000 networkers around the world.  Dan has been a certified trader since 2007 and joins Susana with a profound passion for life coaching and personal development.  Thousands of people have benefitted from the focused mentoring they have received from Susana and Dan.
In the beginning of 2020, Susana and Dan received an auspicious telephone call from a good friend, Victor, whom they had not seen in 9 years.  He shared a wonderful message with them about ByDzyne and then continued to follow up for several months with his enormous passion and belief.  Susana expressed her feelings by saying,
"We admired and appreciated Victor's dedicated follow-up.  ByDzyne's revolutionary business concept fascinated us from the very beginning and allowed us to regain our enthusiasm for an exciting new business project.  Our meetings with the Company owners and executive team members confirmed our decision to join this amazing opportunity."
Among the many reasons that Susana and Dan decided to join forces with ByDzyne are:
A unique, revolutionary and innovative business model which has the Power of Choice has a core element,
The company is within its first 3 years of operations,
The tremendous growth rate of the company during Year 1 which is the period of greatest risk,
The company is capitalizing on the most important commercial trends and is on the cusp of explosive momentum,
The ethics and integrity of the company's owners and corporate team, and
The ability to capture significant market share because of multiple business verticals.
Susana and Dan are excited to share their personal and team goals as they launch their new ByDzyne business:
To build a worldwide team of thousands of people who are ready to transform their lives, including fulfilling their forgotten dreams,
To support all members of their team to advance to the next professional levels by taking advantage of their resources, tools, mentoring, training and leadership capabilities, and
To specifically help and support at least 18 people to achieve ByDzyne's highest rank and, in so doing, forge a brand new personal legacy of accomplishing their great dreams.
These two incredible leaders, a daughter and a son of Spain, are highly motivated by the words of Albert Einstein, "The mind that opens up to a new idea never returns to its original size."  They are running hard and fast with this new and exciting business idea and are already making a mark of influence with their fast growth and commitment to BDNation.  Susana and Dan shared a powerful statement of their personal belief foundation:
"Our philosophy is that the steps we do not take also leave their mark. So let us make our steps really count."
ByDzyne graciously welcomes Susana and Dan to the leadership ranks of the company and can confirm already that their footsteps are already counting for good and significant influence.
SPANISH
En un movimiento significativo para expandir su huella global en el mercado dinámico de Europa, ByDzyne se complace en dar la bienvenida a Susana Rodríguez y Dan González, destacados profesionales de marketing multinivel de España, a la familia BDNation.
Sus capacidades de liderazgo y amplia experiencia serán un activo importante para la expansión europea de ByDzyne, comenzando en España y extendiéndose a muchos otros importantes mercados en Europa y Latinoamérica. Su carrera en marketing multinivel comenzó en 2009 y alcanzaron los niveles de ventas más altos en dos compañías diferentes.
Susana también es una autora publicada que escribió "Cómo ganar dinero desde casa con Network Marketing", además de tener una gran experiencia como Abogada experta en todos los aspectos legales de la profesión de MLM. Ella ha sido Consultora para 22 compañías de venta directa y ha sido mentora de más de 54,000 networkers alrededor del mundo.
Dan es trader certificado desde 2007 y tanto a Dan como a Susana les une una profunda pasión por el coaching de vida y el desarrollo personal. Miles de personas se han beneficiado de sus entrenamientos de Mentoring.
A principios de 2020, Susana y Dan recibieron la llamada telefónica de un buen amigo, Víctor, a quien no habían visto en 9 años. Él compartió un mensaje maravilloso con ellos sobre ByDzyne y luego continuó haciendo un seguimiento durante varios meses con su enorme pasión y creencia. Susana expresó sus sentimientos diciendo:
"Admiramos y apreciamos el seguimiento dedicado de Víctor. El concepto revolucionario de negocio de ByDzyne nos fascinó desde el principio y nos permitió recuperar nuestro entusiasmo por un nuevo y emocionante proyecto empresarial. Nuestras reuniones con los propietarios y equipo ejecutivo de la Compañía fueron claves para confirmar nuestra decisión de unirnos a esta increíble oportunidad."
Entre las muchas razones por las que Susana y Dan decidieron unir fuerzas con ByDzyne son:
Un modelo de negocio único, revolucionario e innovador que tiene el poder de elección como elemento central,
la compañía está dentro de sus primeros 3 años de operaciones,
la tremenda tasa de crecimiento de la empresa durante el primer año, que es el período de mayor riesgo,
la compañía está capitalizando las tendencias comerciales más importantes y está a punto de un crecimiento explosivo,
la ética y la integridad de los propietarios y el equipo corporativo de la compañía, y
la capacidad de aumentar la participación significativa en el mercado debido a las múltiples verticales de negocio.
Susana y Dan están emocionados de compartir sus objetivos personales y de equipo al lanzar su nuevo negocio ByDzyne:
Construir un equipo mundial de miles de personas que están listas para transformar sus vidas, incluyendo el cumplimiento de sus sueños olvidados,
Apoyar a todos los miembros de su equipo a alcanzar el siguiente nivel profesional aprovechando sus recursos, herramientas, mentoría, capacitación y capacidades de liderazgo, y
Apoyar y dar soporte específicamente al menos a 18 personas para que alcancen el rango más alto de ByDzyne y, al hacerlo, forjar un nuevo legado personal logrando sus más grandes sueños.
Estos dos líderes increíbles, una hija y un hijo de España, se sienten motivados por las palabras de Albert Einstein, "La mente que se abre a una nueva idea nunca vuelve a su tamaño original.
"Ellos están trabajando duro y rápido con esta nueva y emocionante idea de negocio y están haciendo ya una marca de influencia con su rápido crecimiento y compromiso con BDNation."
Susana y Dan compartieron esta poderosa declaración sobre su creencia personal: "Nuestra filosofía es que los pasos que no damos también dejan huella. Por lo tanto, hagamos que nuestros pasos realmente cuenten".
ByDzyne le da la bienvenida a Susana y Dan a las filas de liderazgo de la empresa y puede confirmar que sus pasos ya están contando para una buena y significativa influencia.
About ByDzyne
ByDzyne's multi-faceted approach disrupts the traditional industry model by first understanding that one size DOES NOT fit all. You were born into a particular culture, with unique tastes, interests, and desires. Therefore, ByDzyne™ was created with a purpose to celebrate your uniqueness and empower your extraordinary potential. The company's exceptional "culture-crafted" products meet distinct
needs in key consumer markets, and their lucrative business opportunity was formulated to fuel your ideal lifestyle, as YOU see fit.
This customizable approach is a driving force that propels everything ByDzyne does and will do in the future. They proved this by already establishing 4 distinct verticals: Technology, Training, Travel and Transform. And 8 industries are represented in these diverse categories of products and services: Forex, Online Marketing, Internet of Things (iOT), Lifestyle, CBD, Skincare, Weight Management, and Wellness. At ByDzyne's core, they believe that this "Power of Choice" offers not just opportunity, but security.
Ultimately, the perfect home-based business would have a catalog full of ever-evolving products and services, that would be relevant to all people, available in all markets, and at a price point that everybody can afford.
ByDzyne's mission is to be the most influential economic and cultural force in the industry. Thus, the goal is to continue to expand their global footprint into multiple verticals to
maximize your income opportunities, capitalize on trends, and gain market share in upcoming industries as they advance. Their experienced executive team strives to stand apart from the pack, and build a legacy you can be proud of; one you can truly call home. We are ByDzyne™. Where limitations don't exist. For more information please visit www.bydzyne.com.