Ajibare Samuel Bamidele From Nigeria Achieves Diamond Rank At OmegaPro
July 28, 2020
By Team Business For Home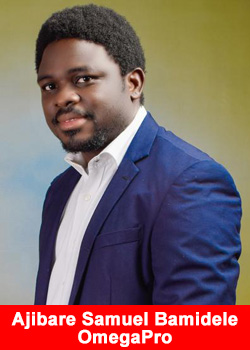 Within 10 months in the Omegapro network, Nigerian entrepreneur Ajibare Samuel Bamidele also known as Big Sam is proud to have achieved the Diamond rank with the company.
Before Big Sam was introduced to network marketing he was a banker with over 10 years experience and an graduate accountant for 15 years. While he always performed well, he never found his passion.
Ten months ago Big Sam was introduced to Paulo Tuynman VP of Omegapro and Dilawar Singh the Founder of Omegapro through his friend and mentor Daniel Onoja who is a Blue diamond within the company.
''My family has always inspired me to dream big and have aspirations, but last year when I met Omegapro founders Dilawar Singh, Andreas Szackas and the VP Paulo Tuynman, my hopes and desires got much bigger and more significant.

I was amazed by their vision and what was possible with Omegapro. All I wanted to immediately was become part of their vision and make it my vision as well.''
Reaching the rank of Diamond is so incredible for Big Sam and his entire family. Within his first time of joining the Network Marketing industry, 10 months with Omegapro earning hundreds of thousands of dollars, changed his life and his family's life completely.
Big Sam's goal is clear: to help as many people as possible live their dream lives, especially within his community and culture.
About Omega Pro
The mission of OmegaPro is to deliver a secure world class trading experience to all clients – both retail and institutional. We continually invest in new technologies and people, to provide our clients with a diverse range of trading products and exceptional trading outputs.
Moreover, we put a major emphasis on account security – we use the most advanced tools and encryption protocols and provide plentiful market liquidity to ensure your capital. Thanks to the vast market volume that OmegaPro handles and our strict risk policies, we can ensure that your account with us is secure, while connecting you to the fast paced global markets. For more information please visit: www.omegapro.world