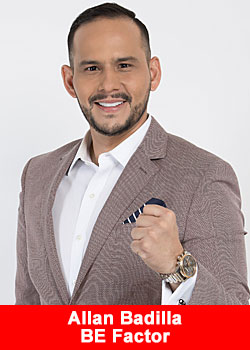 Allan Badilla Achieves Ambassador Rank At BE
July 6, 2020
According to a BE press release:
They say the best kind of success tastes better when it's a fight between you and yourself. Nothing feels special than to break your own record every single time. Indisputable leader
Allan Badilla smashed a massive success, breaking industry records with a whopping commission of $300,000+ earned after hitting the rank of Ambassador.
Sometimes, it's the smallest decision that can change your life forever. Allan recently made a life-changing decision to be part of BE, and what ensued is just extraordinary. Aside from the apparent enormous amount he closed, he was the catalyst that helped over tens of thousands of people around the globe.
In his recent statement, he revealed what contributed to his decision to join BE.
"In my 15 years of experience in the industry, today I've finally accomplished the biggest goal with the help of BE purely because the company has got the heart, unmatched services, straightforward payment system, consistent educational system and most of all – an undeniable vision. 

Today, what I've achieved wouldn't be possible if it wasn't for the guidance and motivation given by the BE Founders Monir Islam, Moyn Islam, and Ehsaan B. Islam. I would like to extend my heartfelt gratitude for the unswerving support they have shown towards my team and me in every step of the way.

It is because of their vision to create such a unique ecosystem; I was able to help hundreds of people to accomplish their dreams as well. They've set the benchmark so high and I shall continue to reach new heights with their leadership."
Following this extensive accomplishment, BE Founders have extended their utmost admiration to their newest Ambassador:
"We are profoundly thrilled with what Allan has achieved.

He's a man who works tirelessly for his team, and everything he does is a clear demonstration of what a true leader is. His enthusiasm, hard work, and passion, plus professional ethics are commendable; we are proud that he's part of our growing family."
Allan is a firm believer of residual income. Before testing his waters in the industry, he used to be a Journalist and Marketing Director, but the feeling of monotony made him a slave to his job and, so he was determined to change his life and become his own boss.
It all began when a former associate had introduced him to Network Marketing and ever since he has fallen deeply in love with it. At present, he's one of the most prominent, highly regarded leaders in Latin America and around the world.
About BE
BE is a next-generation ecosystem made up of a unique concept of 'Live & Learn' which includes e-learning and travel platforms with a comprehensive set of tools for independent business owners.
The BE ecosystem uses artificial intelligence technology, to offer a decentralized, transparent, and empowering space for people from all walks of life, regardless of their educational or financial background, to build their very own multimillion-dollar business from their smartphone.
For more information, please visit www.befactor.com
Disclaimer: Everyone's results vary and are not typical. Just like with any business, it requires hard work, skillset, and dedication. Someone's results can be exceptional than others.
Get more information, fact and figures about BE, click here for the BE overview.
Recommended Distributors