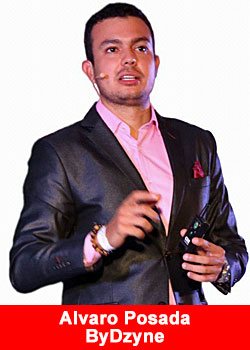 Alvaro Posada From Colombia Achieves President Rank At ByDzyne
July 12, 2020
Spanish Version Below
Strong Latin American momentum continues for ByDzyne with another very significant rank advancement in Colombia.  The Company is pleased to recognize Alvaro Posada for his relentless work ethic in achieving the President rank which requires more than $200,000 in sales in only a 15-day cycle.
The strength of Latin American leadership, both at ByDzyne and in the worldwide profession of network marketing, is on full display yet again.  Alvaro is a great example of servant leadership, perseverance, and a "never give up" attitude.  His network marketing journey started at the young age of 19 years old and was definitely not an easy beginning.  It was two years before he earned a $35 commission check.
But he was born to always look at everything in a positive manner and he took advantage of every learning opportunity such as hotel presentations, training sessions, book clubs, and private mentoring. For his 21st birthday, he even asked his parents for a special birthday gift:  A ticket to attend a seminar with the president of his company at that time. Even though his financial rewards were not what he expected or needed, he is humbled by his struggles and all that he earned in the process which strengthened his character and prepared him to win.
With a professional background in marketing and advertising, Alvaro had many intersecting points with network marketing which allowed him to develop a keen understanding of this business model and the inherent value of authentic brand advocates.  For his team members, Alvaro is a generous and effective leader, unbreakable in his personal principles and integrity, and is constantly seeking opportunities to serve.
His life has been blessed in countless ways because of the miraculous network marketing stories he has personally witnessed.  His own words express his passion,
"I really believe that this industry provides equal opportunities for everyone and the element that makes the greatest difference is a burning desire to transform people's realities for something better."
Alvaro attributes his success at ByDzyne to his willingness to lead from his heart, always thinking first of his team, consistently willing to transfer his knowledge, and helping to create and develop new leaders.  He also gives great credit to the ByDzyne owners and his upline leaders for their mentoring and nonstop help.  He also recalls a statement by Charles Darwin that "The race that survives is not the strongest but the one that adapts the fastest to changes."
This has been relevant to Alvaro's understanding of the continual changes and evolution of the profession of network marketing, new consumption models and the ability to capture important trends through nimble and quick adaptation. This is at the core of his belief in ByDzyne which is leading the New Era of the MLM industry through the dynamic Power of Choice philosophy.  Alvaro did not, however, choose to plant his flag with ByDzyne only for its innovative concept or generous compensation plan.
He chose the Company because of profound values and an undeniable focus on Brand Ambassador leaders.
"I am so impressed that the leaders at ByDzyne have significant influence and that the company owners, Nat & Chanida, Chad & Nattida and Sophia Wong always seek our opinions and feedback to help make great decisions.  In my experience, when corporate and field leaders have the same vision, magic happens,"
stated Alvaro.
He has great confidence that ByDzyne is the perfect home for he and his team to build a lasting legacy and transform the lives of countless families.  ByDzyne warmly congratulates Alvaro Posada for his impressive President rank and for the awesome spirit which he brings to the Company.
Spanish
El constante crecimiento que está teniendo ByDzyne a nivel global se ve una vez más reflejado con un nuevo rango de presidente en Colombia. La compañía anunció hace pocos días que Álvaro Posada ha alcanzado este logro demostrando como el liderazgo latinoamericano cada vez tiene más peso en esta industria. Un presidente genera más de $200.000 en ventas en un período de 15 días.
Álvaro es muestra de cómo la experiencia y la perseverancia junto con una genuina intención de ayudar a los demás son factores claves para alcanzar grandes logros en esta profesión, sin embargo sus inicios no fueron fáciles, comenzando a sus 19 años en la industria del network marketing le tardó cerca de 2 años lograr su primera comisión la cual no superó los 35 Usd.
Recuerdo haber asistido a todo!!! Presentaciones de hotel, capacitaciones, clubes de lectura, mentorías privadas, incluso pedí a mis padres que el regalo cuando cumplí 21 años fuera un seminario con el presidente de la compañía a la que pertenecía en aquel entonces, los resultados económicos no eran los que esperaba, pero hoy lo agradezco, haber pasado por todo eso fortaleció mucho mi carácter.
Como profesional en mercadeo y publicidad, Álvaro José estuvo involucrado durante toda su carrera en el mercadeo en red, esto le ayudó a ver y comprender de manera única este este modelo de negocio "pude ver la teoría en la practica, lo que logran las empresas de network marketing es el santo grial en el mercadeo: verdaderos enbajadores de una marca"
Para las personas que trabajan junto a él, Álvaro es un líder inquebrantable, generoso y siempre al servicio de los demás "es un tipo de liderazgo que no es fácil de encontrar".
"Me enamoré del Network Marketing no solo por lo que he vivido, sino por todas las historias que he visto en estos 14 años en la profesión, realmente creo que esta industria da oportunidades equitativas para todos, en donde lo que marca la diferencia es el deseo ardiente y las ganas de transformar realidades."
El Éxito que Álvaro está teniendo en ByDzyne lo atribuye a hacer las cosas de corazón, siempre pensando primero en su equipo y estar siempre a su disposición para transmitir su conocimiento y así formar nuevos líderes. También la mentoría de los dueños de la compañía y sus uplines que han jugado un papel fundamental en este proceso.
Como Networker muchas veces escuché la frase de Charles Darwin "La raza que sobrevive no es la más fuerte sino la que más rápido se adapta a los cambios." Siempre refiriendose a como el network marketing está transformando la economía, pero como Líder me di cuenta que le pedíamos a otros adaptarse al cambio, pero nosotros no cambiábamos. Como industria necesitamos también evolucionar, adaptarnos a los nuevos modelos de consumo, y a las necesidades del mercado actual, para mi eso es ByDzyne… la nueva era del Network Marketing, el poder de la elección.
Álvaro Eligió ByDzyne no solo por su concepto innovador, ni su generoso plan de compensación, la eligió por sus valores, "esta es una compañía enfocada en sus líderes, donde somos escuchados y nuestra opinión es esencial para la toma de decisiones"  en su experiencia cuando el liderazgo y el corporativo tienen una misma visión ocurre la magia.
Hoy tengo la certeza que estamos construyendo un hogar para muchas personas que como yo estamos buscando dejar un legado y transformar las realidades de muchas familias.

Hoy siento que la experiencia de campo de Chad y Nattida Chong, Nat y Chanida Puranaputra, sumada a la experiencia corporativa de Sofia Wong y todo su equipo de trabajo, Junto con el liderazgo y corazón de todo el equipo a nivel global, son la mezcla perfecta para llevar esta industria al siguiente nivel.
About ByDzyne
ByDzyne's multi-faceted approach disrupts the traditional industry model by first understanding that one size DOES NOT fit all. You were born into a particular culture, with unique tastes, interests, and desires. Therefore, ByDzyne™ was created with a purpose to celebrate your uniqueness and empower your extraordinary potential. The company's exceptional "culture-crafted" products meet distinct
needs in key consumer markets, and their lucrative business opportunity was formulated to fuel your ideal lifestyle, as YOU see fit.
This customizable approach is a driving force that propels everything ByDzyne does and will do in the future. They proved this by already establishing 4 distinct verticals: Technology, Training, Travel and Transform. And 8 industries are represented in these diverse categories of products and services: Forex, Online Marketing, Internet of Things (iOT), Lifestyle, CBD, Skincare, Weight Management, and Wellness. At ByDzyne's core, they believe that this "Power of Choice" offers not just opportunity, but security.
Ultimately, the perfect home-based business would have a catalog full of ever-evolving products and services, that would be relevant to all people, available in all markets, and at a price point that everybody can afford.
ByDzyne's mission is to be the most influential economic and cultural force in the industry. Thus, the goal is to continue to expand their global footprint into multiple verticals to
maximize your income opportunities, capitalize on trends, and gain market share in upcoming industries as they advance. Their experienced executive team strives to stand apart from the pack, and build a legacy you can be proud of; one you can truly call home. We are ByDzyne™. Where limitations don't exist. For more information please visit www.bydzyne.com.
Get more information, fact and figures about ByDzyne, click here for the ByDzyne overview.
Recommended Distributors