Anderson Chester From Trinidad & Tobago Achieves Blue Diamond Rank With Success Factory
July 16, 2020
By Team Business For Home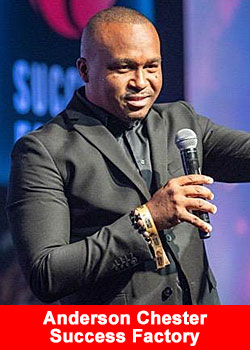 Anderson Chester, from Trinidad and Tobago, has definitely become part of the Hall of Fame of the network marketing industry.
With more than 15 years of experience, Anderson admits that this profession changed his life completely:
"I realized the passion I had for helping people and could easily align in that way to see all my friends and family win."
At the age of 20, Anderson was full of ambition, determination and belief that he would be the one to change the financial status of my family. He knew the way out was to be an entrepreneur, so he started a traditional business. Anderson did that for a few years, but struggled a lot financially to keep it afloat, until he decided to quit that business and focus on becoming a door to door salesman. The turning point came within a few months of cold calling. Anderson bumped into a gentleman who would listen to his sales pitch and immediately after introduced him to network marketing.
Anderson's first taste of success came a few years later when he attained the highest rank throughout North America, Latin America and the Caribbean at that company. Anderson shares some of his experiences with network marketing:
"Fast forward to the present, I'm so happy and grateful for the immense success my team and I have been having over the years. I've literally traveled around the globe, empowering people of different cultures, languages and creed. I dined at some of the most famous restaurants and slept and some of the most luxurious hotels, together with my family and team.
I've learned over the years that relationship building is the cornerstone of building large organizations with great leaders. Together with my mentors Igor. E. Alberts and Andreea Cimbala, we start every year climbing Mt. Scenery on the Island of Saba, the highest peak in the kingdom of the Netherlands. We don't only build the business, we build lifetime bonds. My fulfillment of having to share my now Blue Diamond position with my long time friend Mr. Duane Marc Anthony is a testament to the power of good relationships.
I would like to mention some of the amazing Success Factory giants, such as Roald Maily and Patrician Numan, Mario Vielmas and Giovanna Renteria and the Top Income earners in Network Marketing Igor. E. Alberts and Andreea Cimbala. I'm so humbled to be the first person from the Caribbean (Trinidad and Tobago) to accomplish this great achievement."
Anderson doesn't forget to send great thanks to his family and friends, who supported him in this great journey of making dreams come true and making of this world a better place to live.
About Success Factory
Success Factory is a network marketing company whose main goal is the promotion of human potential and supporting latest technology, relying on innovative and creative proposals that bring real solutions to the lifestyle in the 21st century.
The product catalogue of the company is mainly digital, covering the spheres of technology, education, sales skills and financial expertise. All that always improving quality, usability and exceptionality and offering its sales force different products to work with. The most outstanding items within the extensive ecosystem of the company are Forex Insiders, B.A.N.K., Dagcoin, and Dagpay.
Success Factory has come to be the company that transforms network marketing, being, above all, a company that detects, trains and empowers the sales professionals that will be the great legends of the industry tomorrow. Find more information on the company's website www.successfactory.com.
Recommended Distributors Success Factory