Paola & Salvatore From Colombia Achieve 2 Star President Rank At ByDzyne
July 27, 2020
By Team Business For Home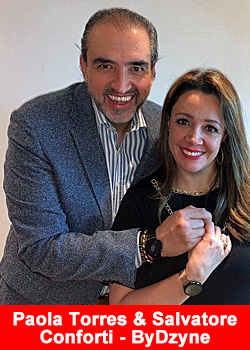 ByDzyne is excited to announce that Paola Torres and Salvatore Conforti have achieved the influential rank of 2 Star President.
A 2 Star President generates over $400,000 of sales revenue in 15 days. Salvatore and Paola come from a background of traditional entrepreneurs and have founded companies in the publishing industry and the health/wellness market segment.
Seven years ago, they took a great leap of faith and became network marketing professionals without any experience whatsoever. They developed their new MLM business while continuing to run their existing business activities.
In the first year of their network marketing journey, they achieved the highest ranks in their company. This gave them the motivation to dedicate themselves to this "people business" as a full-time career and life project.  Personal growth and development has been one of their greatest passions in helping other people to succeed beyond their expectations.
In December 2019, they traveled to Los Angeles to meet the owners of ByDzyne and learn about their vision for Latin America.  This was an awesome opportunity to prepare Paola and Salvatore to advance their career to a much higher level.  Together with their amazing partners, Alvaro Posada, Christian Nunez, Paola Nunez and Elmer Salas, they made the joint decision to explode ByDzyne's business in their countries.
"We immediately fell in love with ByDzyne's business proposition and the complete innovation we witnessed.  We knew this was the right company, the right leadership, the right timing, and the right trends for tremendous success.

We saw the global impact of the company, along with diverse products and services, and a company that was created for leaders where people definitely come first. The experience, success track records, and integrity of the owners, Nat and Chanida Puranaputra, Chad and Nattida Chong, and Sophia Wong were decisive for our decision."
Paola and Salvatore stand for the important principle that passion and success go hand in hand and this awesome combination can multiply in its effects and impact throughout an entire team.  They are using these concepts to build an unbelievable team filled with upright and big-hearted leaders.  They have been honored and humbled to find themselves in a joyful position of working side-by-side with many incredible people, including Jed Buenaluz, who has been a great mentor to them.
In the span of the previous seven months, Paola and Salvatore are confident that they are building the foundation of a very powerful business empire in Latin America.  This team already consists of 9 Presidents, 50 Diamonds, more than 100 Directors, and 1,500 Brand Ambassadors. 
With all of these inspiring accomplishments, Paola and Salvatore offered these words of great passion and confidence, "We clearly know that the best is yet to come!"
SPANISH
Salvatore y Paola ,Top Líderes de Colombia alcanzaron el prestigioso rango Presidente 2 Estrellas en ByDzyne. Un presidente 2 estrellas produce más de $400.000 en ingresos por ventas en 15 días.
El liderazgo, la influencia y su trayectoria empresarial están jugando un rol muy importante en el posicionamiento de Bydzyne en Colombia y Latinoamérica. Salvatore y Paola han sido empresarios tradicionales toda su vida han fundado y liderado compañías importantes en la industria editorial y el gremio de la salud y bienestar.
Son conscientes como emprendedores que el mundo está cambiando y la manera de hacer negocios también lo cual los llevo a emprender en la industria del networkmarketing hace siete años, sin experiencia y desarrollándolo paralelo a sus negocios tradicionales en su primer año lograron los rangos más importantes en su compañía, lo cual los llevo a tomar la decisión de dedicarse a esta profesión como carrera y proyecto de vida. Son una familia apasionada por el crecimiento personal, son miembros del equipo de John Maxwell para Latinoamérica, lo cual a marcado su carrera en los últimos anos.
Cuando iniciamos esta profesión la posibilidad de cambiar vidas llevando libertad, esperanza y recompensa justa a las familias nos hizo vibrar en otra frecuencia y descubrir nuestra verdadera pasión.

Somos padres de dos hijos y sabemos que el mejor legado que les podemos dejar es el ejemplo de luchar por sus sueños, siempre avanzando en un camino a su realización personal y más importante será nuestro papel cuando encauzamos nuestras capacidades en ayudar a la humanidad, invitarlas a que despierten y se den cuenta del océano de posibilidades que tenemos adelante, un camino lleno de éxito y progreso por recorrer.
En diciembre del 2019 estaban listos para dar su siguiente paso en su carrera y avanzar a un siguiente nivel, conocen sobre Bydzyne, viajan a Los Angeles a conocer la empresa, sus dueños y la visión de esta compañía para Latinoamérica. Junto con sus socios Alvaro Posada, Christian Núñez, Paola Núñez y Elmer Salas toman la decisión de llevar Bydzyne a sus países.
Nos enamoramos de inmediato de la oportunidad, todas las variables jugaban a nuestro favor, la compañía correcta, el liderazgo, el momento, el corporativo, las tendencias correctas.

Encontramos en Bydzyne una alternativa ajustada los tiempos actuales, una compañía innovadora y de impacto global, con diversos productos y servicios, una compañía creada para los líderes donde las personas son primero. La experiencia e integridad de sus dueños Nat y Chanida Puranaputra, Chad y Natida Chong y un corporativo liderado por Sophia Wong fueron determinantes para nuestra decisión.
La pasión y el éxito van de la mano y se multiplican en equipo; así fue como empezaron a llegar  los lideres correctos, íntegros y de gran corazón a forjar las bases de  un negocio sin precedentes en nuestros países, se unieron los lideres con los que siempre sonamos trabajar,  lideres importantes en nuestra familia  Liliana Mesa y Mauricio Muñoz, Amigos y socios Patricia Tamara, Pedro Mojica, Sebastián Fernández, Santiago Londoño, , Nuber Lamus, Erick Bernard, Osfam Sequeira, Yadira Mena, Juan Fernando Orozco, Gustavo Chirinos, Alu Rey, Fiorella Guillen, David Lopez; Alejandro Monroy, Victor Franco entre muchos otros. En tan solo siete meses de la mano de nuestro gran mentor Jed Buenaluz hemos construido las bases de un negocio muy poderoso para Latinoamérica, ya somos 9 presidentes, 50 diamantes, más de 100 directores y 1500 embajadores.Sabemos con claridad que lo mejor está por venir.
About ByDzyne
ByDzyne's multi-faceted approach disrupts the traditional industry model by first understanding that one size DOES NOT fit all. You were born into a particular culture, with unique tastes, interests, and desires. Therefore, ByDzyne™ was created with a purpose to celebrate your uniqueness and empower your extraordinary potential. The company's exceptional "culture-crafted" products meet distinct
needs in key consumer markets, and their lucrative business opportunity was formulated to fuel your ideal lifestyle, as YOU see fit.
This customizable approach is a driving force that propels everything ByDzyne does and will do in the future. They proved this by already establishing 4 distinct verticals: Technology, Training, Travel and Transform. And 8 industries are represented in these diverse categories of products and services: Forex, Online Marketing, Internet of Things (iOT), Lifestyle, CBD, Skincare, Weight Management, and Wellness. At ByDzyne's core, they believe that this "Power of Choice" offers not just opportunity, but security.
Ultimately, the perfect home-based business would have a catalog full of ever-evolving products and services, that would be relevant to all people, available in all markets, and at a price point that everybody can afford.
ByDzyne's mission is to be the most influential economic and cultural force in the industry. Thus, the goal is to continue to expand their global footprint into multiple verticals to
maximize your income opportunities, capitalize on trends, and gain market share in upcoming industries as they advance. Their experienced executive team strives to stand apart from the pack, and build a legacy you can be proud of; one you can truly call home. We are ByDzyne™. Where limitations don't exist. For more information please visit www.bydzyne.com.