Pier-Olivier Larose Achieves Ambassador Rank At BE
July 29, 2020
By Team Business For Home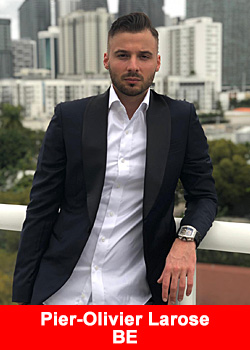 A strong positive attitude will create more miracle than any wonder drug. Pier-Olivier Larose of BE has been a rising star who comes with a positive mindset, passion for his work, and an unbeatable determination which has all allowed him to achieve a well-deserving success.
Today marks another milestone as he reaches the esteemed rank of Ambassador. To achieve ambassador in BE, one must do a revenue of almost $4 million sales in their organization in a 4 week cycle.
To reach the goals, the only direction one needs is ahead. Pier-Olivier is one of the most focused individuals in the Network Marketing industry. With just the determination and right support, he was able to achieve this feat in no time.
On this tremendous achievement, Pier shares:
"Reaching the rank of Ambassador today, I remember the time when I first visited Dubai to meet the BE Founders Monir Islam, Moyn Islam and Ehsaan Islam. After years of experience in the industry, I immediately knew joining BE was a no brainer for me.

With the company's remarkable vision and mission, I'm proud to know we will impact and change millions of lives – and that's the kind of purpose I want to be part of. Thanks to BE and its founders for not only helping me live my dreams but also enable me to empower hundreds and thousands of other people as well. I'm forever grateful!"
Pier is one of the youngest members to achieve such a massive feat in a short period. For him, doing the best is non-negotiable when it comes to reaching new heights at BE.
"I couldn't be happier to be part of the right company, under the right guidance in the network marketing industry. I was only 18 when I decided to take the leap of fate and go for it. Since then, my life has been a series of non-stop surprises.

Of course, there are high and lows, but BE founders Monir Islam, Moyn Islam and Ehsaan Islam have provided me with the right products, and a solid support system, helping me reach my goals with such grace and dexterity."
BE, without any doubts, has been dominating momentum ranks following numerous top leaders closing in new prestigious positions. On Pier's massive addition to this intense energy, Monir Islam, Moyn Islam, and Ehsaan Islam claim:
"We are thrilled to see Pier on this breakthrough. He has been with us since the beginning, and witnessing him strive and march towards his goals to achieve it is nothing but gratifying. Hats off to this hardworking individual, Pier, who truly deserves this success."
About BE
BE is a next-generation ecosystem made up of a unique concept of 'Live & Learn' which includes e-learning and travel platforms with a comprehensive set of tools for independent business owners. The BE ecosystem uses artificial intelligence technology, to offer a decentralized, transparent, and empowering space for people from all walks of life, regardless of their educational or financial background, to build their very own multimillion-dollar business from their smartphone.
For more information, please visit www.befactor.com
Disclaimer:
Everyone's results vary and are not typical. Just like with any business, it requires hard work, skillset, and dedication. Someone's results can be exceptional than others. There will undoubtedly be IBPs who will earn less while others will earn much more. be.™️ does not guarantee any level of income or success to any IBP.
Recommended Distributors BE