Power Couple Patty & Pedro From Colombia Achieve 2 Star President At ByDzyne
July 31, 2020
By Team Business For Home
Pedro Mojica and Patricia Tamara are a dynamic husband and wife team who have deep roots in the traditional business world.
ByDzyne is very excited to announce that Pedro and Patricia have successfully accomplished a tremendous performance which has qualified them as 2 Star Presidents.
A 2 Star President generates over $400,000 USD in sales revenue in just 15 days.
Pedro has a 25-year track record as a civil engineer, a builder, and an entrepreneur.  Patricia has been a successful businesswoman with the largest chain of spas in Colombia's capital city, Bogota.  Some health challenges of Patricia opened the door to network marketing.
They were determined to find a business model that could provide an income while working from home but would not depend on their presence 100% of the time.  They learned that network marketing was their perfect vehicle and could help them create wealth in tandem with their other business activities.
They began their networking journey 7 years ago and with discipline and focus, they built a team of more than 5,000 people.
This resulted in specific actions to develop genuine leadership influence by building leaders.  At the very end of 2019, their dear friends Paola Torres, Salvatore Conforti, and Alvaro Posada introduced them to ByDzyne. Without thinking twice, they exercised immediate faith and became part of the ByDzyne family. There are no better words than their own to describe their decision:
"This innovative business model, with multiple verticals of product categories, with continuous innovation and upwards evolution was the perfect key to service multiple markets, countries and people.
They started working and in their first 15 days, they were the first 2 Stars Diamonds in Colombia and their 2-weeks commission exceeded $14,000 USD. By their second cycle they were 3 Stars Diamonds, and in July they achieved the rank of 2 Star President , having one of the strongest organizations with 4 presidents and 21 diamonds in their enroller tree, in several countries in Latin America and Europe.
"We are fortunate and blessed to have in our organization great friends and leaders, in the ranks of 2 Stars Presidents Alejandro Monroy and Presidents Victor Franco, Alejandro Arango, Susana Rodriguez and Dan Gonzalez".
"We thank the ByDzyne Chairman Nat Puranaputra for sharing his incredible experience with us, for our Chairwoman Chanida Puranaputra for her unparalleled and authentic heart, to Co-founder Chad Chong who has become a great mentor to us, to Co-founder Nattida Chong for injecting us with boundless energy and daily faith, and to Co-founder Sophia Wong for her unconditional support.  They have become our family and we love them very much. "
Today they want to thank the more than 1,000 people who make up their team, 3 Star President Jed Buenaluz and 2 Star President Christian Nuñez, for being at the service of the entire organization, the Corporate for their mentoring and advice, their direct Sponsors Paola and Salvatore, their Presidents, Diamonds, Founders, Directors, Pro-Builders, Builders and Brand Ambassadors who have trusted them.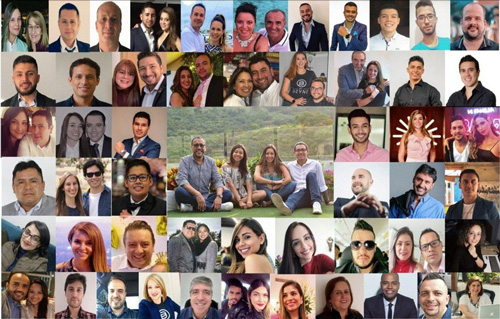 Spanish Version
By Dzyne sigue su expansión global y se ve reflejado nuevamente en Colombia llegando al Rango de Presidente 2 Estrellas una pareja de esposos empresarios en el mundo de los negocios tradicionales y amantes del Network Marketing. Un presidente 2 estrellas genera más de $400.000 USD de ingresos en ventas en un ciclo de 2 semanas.
Pedro Ingeniero civil constructor y empresario por más de 25 años, Patricia empresaria con la cadena de Spa más grande de Bogotá-Colombia, llegaron a la industria a raíz de un problema de salud de Patricia. Empezaron a buscar modelos de negocios que les diera una nueva fuente de ingresos en casa pero que no dependiera 100% de ellos. Hace 7 años un familiar les hablo del NM y desde ese momento decidieron que enfocarían su energía y habilidades a construir un negocio que para ellos era el modelo perfecto para generar riqueza paralelamente a sus empresas.
En su última compañía de NM estuvieron trabajando con disciplina y enfoque, llegaron a construir equipos de más de 5.000 personas, generando buenos ingresos, ganando viajes, bonos y premios. Pero su visión hacia el Network Marketing cambio cuando se dieron cuenta que su verdadera pasión era estar al servicio de las personas y que su abundancia infinita llegaría entre más trabajaran en su espiritualidad y crecimiento personal, por eso se han dedicado varios años a ser su mejor versión, desarrollando su liderazgo genuino por construir líderes.
A finales de diciembre del 2019 sus grandes amigos Paola Torres, Salvatore Conforti y Álvaro posada les hablaron de By Dzyne y ellos sin pensarlo dos veces tomaron le decisión de empezar a trabajar.
"No habíamos visto un modelo tan innovador, de tendencia mundial con 7 verticales de negocios en constante evolución y que pudiera llegar a múltiples mercados, países y personas, su plan de pagos no tiene ninguna limitante para construir organizaciones donde realmente puedas generar ingresos que lleguen al millón de dólares, por fin encontramos una verdadera casa para todas las personas que queremos hacer de ésta profesión un estilo de vida, solo tenemos gratitud hacia nuestros amigos por compartirnos esta gran oportunidad"
Empezaron a trabajar y en su primer ciclo de 2 semanas fueron los primeros Diamantes 2 Estrellas de Colombia y su comisión supero los $14.000 USD, en su segundo ciclo fueron Diamantes 3 estrellas y en Julio logran su Rango de Presidentes 2 estrellas, teniendo una de las organizaciones más fuertes con 4 presidentes y 21 diamantes en líneas directas en varios países de América Latina y Europa.
"Somos afortunados y bendecidos de tener en nuestra organización a grandes amigos y líderes en rangos de Presidente 2 Estrellas Alejandro Monroy y Presidentes Víctor Franco, Alejandro Arango, Susana Rodríguez y Dan González"
Pero realmente lo que los tiene más emocionados y felices de seguir construyendo en By Dzyne son sus socios del corporativo CEO, Co-Propietarios y su Vicepresidente Dave, personas de gran corazón, líderes # 1 a nivel mundial en la industria y todo el equipo corporativo quienes desde el primer día han estado de la mano trabajando con ellos.
"Gracias a Nat por brindarnos su experiencia, a Chanida por su gran corazón, a Chad por su acompañamiento directo se ha convertido en un gran mentor para nosotros, a Nattida por inyectarnos esa energía y fe diaria y a Sophia por su apoyo incondicional son nuestra familia, los queremos mucho"
"Cuando nos reunimos por primera vez con ellos, mi esposa lloraba de felicidad y yo sentí la tranquilidad de haber encontrado un socio fuerte y con gran visión para darle una nueva oportunidad a las personas en América Latina" dice Pedro.
"Y cuando sentí la grandeza de su corazón y esa intención genuina de ayudarnos solo le di gracias al universo por colocarlos mentores en nuestro camino" dice Patricia.
Hoy quieren darles las gracias a las más de 1.000 personas que conforman su equipo, a Jed Buenaluz Presidente 3 Estrellas y a Christian Núñez Presidente 2 Estrellas por estar al servicio de toda la organización, al Corporativo por su mentoría y asesoría, a sus Patrocinadores directos Paola y Salvatore, a sus Presidentes, Diamantes, Fundadores, Directores, Pro Constructores, Constructores y Embajadores de la marca que han confiado en ellos.
¡Gracias a todos por su lealtad, amistad incondicional y su gran servicio a toda la comunidad, los queremos mucho, pero sobre todo gracias a nuestros hijos Nicolás y Daniela quienes han sido nuestros compañeros de aventuras de la vida, nuestro porque más grande, nuestro motor, las dos personas que han estado en las buenas y no tan buenas, son nuestra guía y norte son nuestro todo.
About ByDzyne
ByDzyne's multi-faceted approach disrupts the traditional industry model by first understanding that one size DOES NOT fit all. You were born into a particular culture, with unique tastes, interests, and desires. Therefore, ByDzyne™ was created with a purpose to celebrate your uniqueness and empower your extraordinary potential. The company's exceptional "culture-crafted" products meet distinct
needs in key consumer markets, and their lucrative business opportunity was formulated to fuel your ideal lifestyle, as YOU see fit.
This customizable approach is a driving force that propels everything ByDzyne does and will do in the future. They proved this by already establishing 4 distinct verticals: Technology, Training, Travel and Transform. And 8 industries are represented in these diverse categories of products and services: Forex, Online Marketing, Internet of Things (iOT), Lifestyle, CBD, Skincare, Weight Management, and Wellness. At ByDzyne's core, they believe that this "Power of Choice" offers not just opportunity, but security.
Ultimately, the perfect home-based business would have a catalog full of ever-evolving products and services, that would be relevant to all people, available in all markets, and at a price point that everybody can afford.
ByDzyne's mission is to be the most influential economic and cultural force in the industry. Thus, the goal is to continue to expand their global footprint into multiple verticals to
maximize your income opportunities, capitalize on trends, and gain market share in upcoming industries as they advance. Their experienced executive team strives to stand apart from the pack, and build a legacy you can be proud of; one you can truly call home. We are ByDzyne™. Where limitations don't exist. For more information please visit www.bydzyne.com.