Bonaventure Igboanugo From Nigeria Achieves Diamond Rank At OmegaPro
August 11, 2020
By Team Business For Home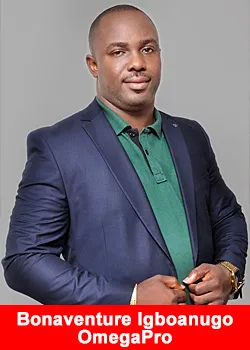 Bonaventure Igboanugo (popularly known as Bona Leo) smashed a massive success, within 10 months in OmegaPro, he has achieved the Diamond rank with the company.
Bona Leo is a proud husband of Rosemary Igboanugo and father of blessed daughter Bertilia.
He is a strong believer of financial freedom and financial stability, before testing his waters in the network marketing industry he bagged several awards and professional/International certificates, holds a Bachelor of Science degree in Biology Education, has a Masters in Public Health and is the CEO of Rocbilim Nigeria Limited.
He is also a seasoned politician in Lagos Nigeria.
Fast forward in 2019 he came across Omegapro, after almost 2 days meeting in the city of Lagos, he made the decision to be one of  the pioneers of Nigeria and position the company worldwide.
''I chose to build a business with Financial Stability because I recognized that there was strong, authentic leadership in place, the company has been debt-free and most importantly the founders and VP of Sales have an undeniable vision.''
At present, he's one of the most prominent, highly regarded leaders in Nigeria. Bona Leo is aiming to help several thousands of people in Nigeria to become financially free, live their lives to the fullest by improving their finances.
What I have achieved wouldn't be possible if it wasn't for the guidance and motivation given by my sponsor Vincent Udoye, the ever supportive VP of Sales Paulo Tuynman.
''Omegapro has world-class leadership, culture and vision over any other company I've seen! You only need a phone and the internet to use the services or do your network marketing business. We're building a strong strategy on how we are going to help thousands of families to transform their lives, mindset, to earn money and to increase that money in the coming years!''
Thanking the founders, all the wonderful people in my team who have helped me along the way, Vincent Udoye, my mentor and Vp Paulo Tuynman and his wife Amira Habib, CNO Dilawar Singh, SA Mike Sims, CEO Andreas Szakacs for all their support, leadership and providing this opportunity.
About Omega Pro
The mission of OmegaPro is to deliver a secure world class trading experience to all clients – both retail and institutional. We continually invest in new technologies and people, to provide our clients with a diverse range of trading products and exceptional trading outputs.
Moreover, we put a major emphasis on account security – we use the most advanced tools and encryption protocols and provide plentiful market liquidity to ensure your capital. Thanks to the vast market volume that OmegaPro handles and our strict risk policies, we can ensure that your account with us is secure, while connecting you to the fast paced global markets.
For more information please visit: www.omegapro.world