Dr. Ghaffar Mohaghegh From The Netherlands Achieves Diamond Rank With OmegaPro
August 6, 2020
By Team Business For Home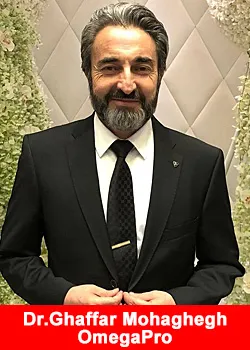 Dr. Ghaffar Mohaghegh stated upon his achievement:
From my earliest consciousness and awareness of my own life I have always had a vision to help other people. In order to fulfill that vision I earned my first Masters Degree in Oriëntalism and following that I earned my second Masters Degree as a Medical Eye Doctor.
After doing this for years I expanded my vision and intelligence to create educational and financial opportunities that everyone can make use of. These opportunities would need to be based on people's efforts and learning, and their earning incentives would result from helping others.
When I first studied and observed OmegaPro back in Oct 2018, I listened and then decided to take the customer journey and experience all their services that were promised more than a year ago. During this time, OmegaPro has continuously over-delivered when it comes to company leadership, trading, technology and the results that have made great impacts on people's life.
I have been in the business world for more than 40+ years and can only advise each of you to share the customer journey and experience the platform by learning the fundamentals.
Thankfully, we now have a legitimate company with strong leadership and a unique and well calculated business model. Using this program with my work experience and lifetime network, I personally want to create a massive network of driven and open-minded individuals that will be somewhere between 700K and 1 Million members. Working inside this unique opportunity to produce 1 Million happy customers!
My start and my market obviously began in Europe. After making Europe the base, my goal is to expand in Asia, Africa and other regions and continue pushing it to the level where we can have different teams in all the continents of the world.
In my team we have weekly and monthly online and offline events, where we would educate and train the team to learn the fundamentals of this business and coach them on how to grow each of their own teams.
Organize small and big events to create momentum in different regions and build strong belief that the OmegaPro Founders will continue to support the company's team events and exposures.
As long as there is great leadership and commitment from both the company and its leaders, there will always be people that are searching for an opportunity like OmegaPro.
About Omega Pro
The mission of OmegaPro is to deliver a secure world class trading experience to all clients – both retail and institutional. We continually invest in new technologies and people, to provide our clients with a diverse range of trading products and exceptional trading outputs.
Moreover, we put a major emphasis on account security – we use the most advanced tools and encryption protocols and provide plentiful market liquidity to ensure your capital. Thanks to the vast market volume that OmegaPro handles and our strict risk policies, we can ensure that your account with us is secure, while connecting you to the fast paced global markets.
For more information please visit: www.omegapro.world