Ivan Martinez Achieves Presidential Diamond Rank At BE
August 25, 2020
By Team Business For Home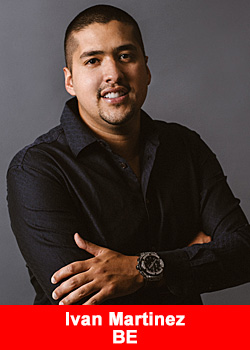 "Success is the sum of small efforts, repeated day-in and day-out."
Ivan Martinez proved to be a true leader and professional networker with the ability to guide as well as motivate every team member, inspire admiration and confidence and so much more. Today, with much vigor and excitement, Ivan Martinez has reached the Presidential Diamond ranking with BE.
To achieve Presidential Diamond in BE, one must do revenue of at least $650,000 USD sales total in a 4-week cycle in their organization. Ivan has surpassed the target and achieved this in record-breaking time.
Success is where preparation and opportunity meet. Ivan joined network marketing at the age of 19 years and he brings a whole lot of positivity and motivation to his team. He's proved to be an exemplary leader, diligent hard worker and a very passionate networker. His contribution to BE stands pivotal in the Columbian market.
They say you need to surround yourself only with people who are going to life you higher, and for Ivan, BE Founders Moyn Islam, Monir Islam and Ehsaan Islam were the guiding force for his success. He got the chance to learn from the best in the industry. Here's what he said about the experience working with BE.
"BE has helped me and my family a lot and I am immensely grateful. For the first time in 10 years being in Network Marketing, I am receiving a real residual income! It's because of BE, I have been able to buy a piece of land where I will get to build my dream house. I am indebted to this amazing company and its founders."
Ivan always looked to work for a promising company in the digital sector which will enable him to prosper as an individual as well as make a difference in other's lives. BE is all about empowering people of all walks of life to progress and realize their dreams. He truly believes in BE's vision and looks up to his mentors and BE founders, he says:
"I really don't have words to describe about Monir Islam, Moyn Islam and Ehsaan Islam. They are amazing people, committed to all their distributors, and always protecting us. I personally want to extend my gratitude to Mr. Monir Islam without whom all my achievements would not have been possible. I trust them completely, and in their vision. We will be the largest company in the industry very soon"
From a humble beginning, Ivan has come a long way in the network marketing industry. He continued, "The credit to my success first goes to the BE founders, my amazing team, my wife who always supports me and my mother who teaches me all about PnL. And my big "WHY?" that keeps me going every day is my daughter".
Ivan envisions to be featured in the top 10 earners in 'Business For Home', having at least 10 leaders from his team in the list.  He urges his team to dream big and never stop until every goal is achieved.
BE is pioneering in the digital technology sector and effectively transforming people's lives. BE founders Monir Islam, Moyn Islam, and Ehsaan Islam believe Ivan's achievement has set new examples for everyone who comes next:
"Ivan brings so much value to the BE community. He's a very focused individual and he knows exactly what he wants to achieve in his personal and professional life. We are so thrilled to see him hit the Presidential Diamond ranking. We expect only the best and best from Ivan and we know he can deliver it. He believes in BE's vision and so BE as a company believes in him."
As BE is showcasing so many individual accomplishments and remarkable feats as an organization, it'll be interesting to see what comes next for the company and its members.
About BE
BE is a next-generation ecosystem made up of a unique concept of 'Live & Learn' which includes e-learning and travel platforms with a comprehensive set of tools for independent business owners.
The BE ecosystem uses artificial intelligence technology, to offer a decentralized, transparent, and empowering space for people from all walks of life, regardless of their educational or financial background, to build their very own multimillion-dollar business from their smartphone.
For more information, please visit www.befactor.com
Disclaimer: Everyone's results vary and are not typical. Just like with any business, it requires hard work, skillset, and dedication. Someone's results can be exceptional than others. There will undoubtedly be IBPs who will earn less while others will earn much more. be.™️ does not guarantee any level of income or success to any IBP.
Recommended Distributors BE