Remy Nurdin From France Achieves Royal Diamond Rank At BE
August 12, 2020
By Team Business For Home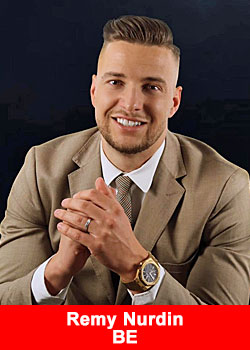 Remy Nurdin is a living example of how a man with a humble origin could rise up amid all odds and excel in life. With a zeal to do something big in life, Remy always remains focused to reach his goals, most recently, his goal to achieve the rank of Royal Diamond with BE.
To achieve Royal Diamond in BE, one must do revenue of over $ 1 million sales in their organization in a 4-week cycle in their total organization. Remy has surpassed the target and achieved this in record-breaking time.
Happiness is not what one achieves; rather the real happiness comes when one contributes to others' happiness too and helps them to succeed in life.  This is what Remy Nurdin believes, and so, his grand vision is to positively impact the lives of others, just as BE has helped to fuel his own career growth.
Everyone needs support to raise the summit of success, and for Remy, BE Founders Moyn Islam, Monir Islam and Ehsaan Islam turned out to be that support system. He was fortunate enough to have the guidance of these young and talented entrepreneurs whose vision is not just to do business but to empower people of all walks of life to progress and realize their dreams. He shares his humble thoughts in the following:
"I have a huge vision, and a mission to impact as many lives as BE has impacted mine. In 5 years, having reached the last position of the compensation plan. And in 10 years, have contributed to the growth of BE by raising standards, and revolutionizing the industry."
"My sincere gratitude to Monir, Moyn, and Ehsaan for the opportunity to become something more while I get to impact other people's lives in the process. We are in a company where the founders excelled in the industry, so for me; they are the best mentors, teachers.

An incredible vehicle with a human scale that cannot be measured. An incredible ecosystem, carefully thought out by the three founding brothers. I have a lot of gratitude for these."
Jostling for jobs and other responsibilities, Remy could hardly think of spending quality time with near and dear ones earlier. But by getting associated with BE, life has taken a new turn. According to him, BE has impacted on all areas of his own life-financial, relational and temporal.  Now he can spend time with his loved ones while handling his duties as an Independent Brand Promoter (iBP) with BE.
BE is all about changing people's lives for good. BE founders Monir Islam, Moyn Islam, and Ehsaan Islam believe Remy's achievement is a testimony to BE's vision:
"Remy is a fantastic human being and a hard-working member of the BE community. We couldn't be more happier to see him hit the Royal Diamond ranking. We've seen him scale new heights over the past, but what he's achieved today is truly phenomenal. Our whole community is inspired, and this is precisely what BE values."
As BE is showcasing so many individual accomplishments and remarkable feats as an organization, it'll be interesting to see what comes next for the company and its members.
About BE
BE is a next-generation ecosystem made up of a unique concept of 'Live & Learn' which includes e-learning and travel platforms with a comprehensive set of tools for independent business owners.
The BE ecosystem uses artificial intelligence technology, to offer a decentralized, transparent, and empowering space for people from all walks of life, regardless of their educational or financial background, to build their very own multimillion-dollar business from their smartphone.
For more information, please visit www.befactor.com
Disclaimer: Everyone's results vary and are not typical. Just like with any business, it requires hard work, skillset, and dedication. Someone's results can be exceptional than others. There will undoubtedly be IBPs who will earn less while others will earn much more. be.™️ does not guarantee any level of income or success to any IBP.
Recommended Distributors BE