Miluska Lee Becomes The First Woman In Peru To Achieve Diamond Rank At OmegaPro 
November 15, 2020
By Team Business For Home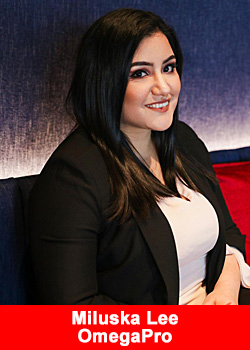 With just a little more than a year in the network marketing business and eight months in OmegaPro, Miluska Lee has gained what an average person would gain in all her life in her country.
Following her precept of always thinking big, Miluska has reached, in a short amount of time, the fourth most important rank in her company: Diamond. Which makes her the second person and first female in Peru to gain it. 
Nowadays, Miluska knows that that is her path, but it hasn't always been like that. Lover of everything Asian and with a tendency to numbers, she decided that she wanted to make her passion into a profession. Thanks to her determination, she got a scholarship for all her studies.
First for her school and then for important universities like San Ignacio de Loyola in Peru, where she studied Hospitality Management, and Kookmin University (국민대학교) in South Korea, where she studied Business Economy.
Her efforts bore fruit and soon her was filled with work, travels and a good salary. But not being able to attend her nephew's birth made her realize that she was losing something very important: the time to be with the people she treasured the most. She also wanted to do something that would transcend. She wanted to use her financial ability to help other people make money. 
"I want to transcend and am determined to achieve it by teaching people financial education, which is something people don't learn. I am sure that is the only way for our society to create profit. And if that is my way of transcending, that will be it.

I can't change the world by myself, but I can change the world of one person. That's the change of mentality that I got this year thanks to my mentors."
That's why Miluska thanks the whole Corporate team, Mike, Andreas, Dilawar and Juan Reynoso for creating this wonderful opportunity. Also I thank the two brothers, Marcelo Vattuone, my mentor, and Mauricio Vattuone, her coequipero, for their support and finally my team, Momentum Pro, whom she considers a family. A team of young leaders that's achieving big accomplishments. 
"The average age of my team is eighteen to twenty-one years. The difference we have, aside from our age, is that we rely on three principles: hunger of success, massive action and loyalty. In Momentum Pro we are very close.

We are the team with the highest number of results in record time in Latin America. That's what distinguishes us. 
I also have many woman leaders. My focus will always be female empowerment. However, the most important thing for me is the mindset. I have many Asian phrases like 'in every cent lives a god'.
I always tell my partners this when they are just beginning. It doesn't matter if it's just a dollar, everything adds up and you must treat with respect every cent. If you have that precept, that cent will turn into millions because god doesn't take anyone's job."
While reaching the Diamond Rank is a great achievement, Miluska is not satisfied. For her, both thinking small and thinking big takes the same amount of time and effort, so she prefers to think big. She soon wishes to achieve Blue Diamond Rank and continue like that until she reaches the top. After all, for those who work hard and don't give up, the sky is the limit.
About OmegaPro
The mission of OmegaPro is to deliver a secure world class trading experience to all clients – both retail and institutional. We continually invest in new technologies and people, to provide our clients with a diverse range of trading products and exceptional trading outputs.
Moreover, we put a major emphasis on account security – we use the most advanced tools and encryption protocols and provide plentiful market liquidity to ensure your capital. Thanks to the vast market volume that OmegaPro handles and our strict risk policies, we can ensure that your account with us is secure, while connecting you to the fast paced global markets.
For more information please visit: www.omegapro.world.