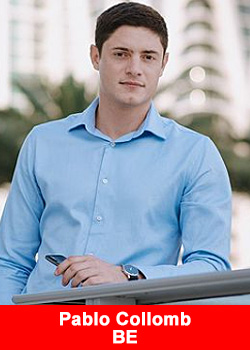 Pablo Collomb From Argentina Achieves Presidential Diamond Rank At BE
December 3, 2020
Pablo Collomb, originally from Esperanza, Santa Fe, Argentina was passionate to do something remarkable in life.
He pushed beyond his own limitations and was never satisfied with just ordinary results. He is a true networker and a leader and to him, the key to success in life is to believe in one's abilities, consistently invest in building the right skill sets and network with the right people.
"Success usually comes to those who are busy looking for it." – Henry David Thoreau
With perseverance and hard work, he has achieved the Presidential Diamond ranking with BE. It's a significant milestone indeed because to acquire this ranking, one should earn a revenue of at least $650,000 sales total in a four-week cycle in the organization.
Pablo was only 18 years old when he was introduced to the network marketing field and he continued working there while pursuing his studies as the Business Director and Insurance Advisory Producer.
However, it was after joining BE that he scaled his career to a new high and achieved significant milestones. He has been recognized as the most established networker in Argentina and he continues to grow and achieve greater heights together with his team.
A support structure to climb the pillar of success is quintessential and for Pablo, the Founders of BE Moyn Islam, Monir Islam and Ehsaan Islam were just that. On working with BE, Pablo puts forth:
"What makes the difference in BE and they have the leadership, support and innovation technology needed to achieve something never seen before in the Network Marketing industry. BE has helped me and my family and I am immensely grateful for the results we are generating."
Pablo always dreamt to work for a visionary company that helps people to prosper as an individual and transform the lives of others too. BE with its digital ecosystem is all about empowering individuals from all walks of life to help them progress and accomplish their goals. He believes in BE's vision and looks up to his mentors and the BE Founders, Pablo says:
"I don't really have words to express the gratitude I feel for all the people who made this possible. Thank you to the founders Monir Islam, Moyn Islam and Ehsaan Islam for creating this wonderful opportunity. I owe it to them, the whole team, my mentors, and my leaders."
BE is propelling forward with an innovative approach and Pablo feels proud to be an integral part by contributing towards this.
About BE
BE is a next-generation ecosystem made up of a unique concept of 'Live & Learn' which includes e-learning and travel platforms with a comprehensive set of tools for independent business owners.
The BE ecosystem uses artificial intelligence technology, to offer a decentralized, transparent, and empowering space for people from all walks of life, regardless of their educational or financial background, to build their very own multimillion-dollar business from their smartphone.
For more information, please visit www.befactor.com
Recommended Distributors