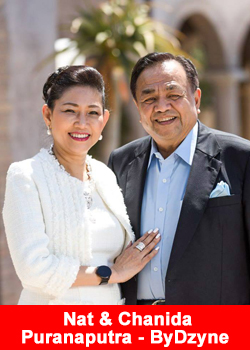 Delta Joins ByDzyne
January 16, 2021
Delta, a highly-acclaimed team of networkers and one of the largest movements worldwide—with more than 250,000 members in 20 different countries—has joined ByDzyne in an unprecedented move that is sure to shift the landscape of network marketing. These include top leaders like Nicola Palacios, Carlos Ardila, Charlotte Graham, Korab Kozgori, Juan David Ardila, María Paula Tello and Carola Garfias.
Since its inception in 2016, Delta has been a team that has helped thousands of entrepreneurs change their life in finances, emotions, and health. Although the group has grown at an exceptional rate on its own, when the opportunity of joining ByDzyne came knocking, it changed everything.
According to Nicola Palacios, one of Delta's top leader, the invaluable experience and achievements of ByDzyne's founders made it a no-brainer when it came time to align.
"ByDzyne has an executive team that has lived and breathed the network marketing industry for more than a combined 100 plus years. They understand what it means to be a top distributor, and have used that expertise to provide a quality organization, quality products, and a quality opportunity for all of us. And that makes all the difference."  
Still committed to Delta's original values of changing people's lives through means of financial freedom, Palacios and his team believe the transition will benefit each and every member of the Delta community. In ByDzyne, Delta has found a strategic ally that has 'Dzyned' limitless possibilities of earning income for its Brand Ambassadors, including through direct sales, e-commerce, and forex trading.
The focus for Delta now shifts to its goal of producing what would be a record 1,000 Diamonds on the team, each of which would generate earnings of over $5,000 per month, per individual—a significant figure to Palacios considering that the majority of the Delta community is located in Latin America.
With a specialty and history of grooming top leaders, taking them from zero to becoming "Rock Stars" of the industry, the future is awfully bright for Delta and its new partnership.
While the bar is set high, with the combined efforts of an organization led by ever-evolving innovation and a team highly committed to the wellbeing of its members, ByDzyne and Delta are on an unparalleled path to breakthrough and success.
*ByDzyne makes ZERO Income claims. It takes hard work and dedication to make a substantial Income. For full Income disclosures, please visit www.ByDzyne.com
About ByDzyne
ByDzyne's multi-faceted approach disrupts the traditional industry model by first understanding that one size DOES NOT fit all. You were born into a particular culture, with unique tastes, interests, and desires. Therefore, ByDzyne™ was created with a purpose to celebrate your uniqueness and empower your extraordinary potential. The company's exceptional "culture-crafted" products meet distinct needs in key consumer markets, and their lucrative business opportunity was formulated to fuel your ideal lifestyle, as YOU see fit.
This customizable approach is a driving force that propels everything ByDzyne does and will do in the future. They proved this by already establishing 4 distinct verticals: Technology, Training, Travel and Transform. And 8 industries are represented in these diverse categories of products and services: Forex, Online Marketing, Internet of Things (iOT), Lifestyle, CBD, Skincare, Weight Management, and Wellness. At ByDzyne's core, they believe that this "Power of Choice" offers not just opportunity, but security.
Ultimately, the perfect home-based business would have a catalog full of ever-evolving products and services, that would be relevant to all people, available in all markets, and at a price point that everybody can afford.
ByDzyne's mission is to be the most influential economic and cultural force in the industry. Thus, the goal is to continue to expand their global footprint into multiple verticals to maximize your income opportunities, capitalize on trends, and gain market share in upcoming industries as they advance. Their experienced executive team strives to stand apart from the pack, and build a legacy you can be proud of; one you can truly call home. We are ByDzyne™. Where limitations don't exist. For more information please visit www.bydzyne.com.
Recommended Distributors