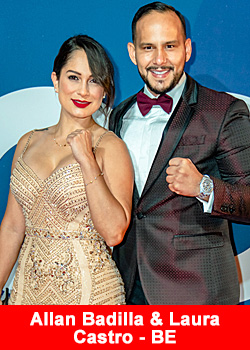 Allan Badilla And Laura Castro Achieve $730,000 Monthly Commissions With BE
February 22, 2021
Success is a personal standard; it is grasping for the highest in us, becoming all that we can be. Likewise, there is only one motivation in achieving any standard we set for ourselves, and that is desire. Nothing could ever contain or stand against it. Truly, Allan Badilla and Laura Castro knew their standards and lived it out with their infallible desire. The duo reaching a record-breaking monthly commission of $730,000 is a phenomenal evidence of it.
Allan, hailed as the "Indisputable Leader" and ever-deserving of it, has lived up to his title ever since his life-changing decision of joining BE. This extraordinary achievement has also ranked up Laura from Royal Diamond to Ambassador.
Though their mission does not end in achieving higher titles or breaking records – Allan and Laura use their advantage for the greater good of others by extending opportunities to thousands of people for leadership and financial-growth globally.
The duo reveals what has contributed to their exceptional accomplishment:
"We have been granted an outstanding and prominent support system by our BE family. What we have achieved would not be possible without the BE Founders – Monir, Moyn, and Ehsaan Islam's passion for providing unfailing guidance and establishing a legacy of opportunities.

Laura and I never lacked the motivation to deliver our purpose and mission with dedication, hard work, and enthusiasm as BE has and continues to mark in our lives.

I want to extend my heartfelt gratitude for the endless support they have shown towards me, Laura, and my team every step of the way."
Allan has come from a strong background in his previous career as Marketing Director and Journalist, but the monotonous system has driven him to seek a meaningful change to be his own boss. He has established his first step in Network Marketing when a former associate has introduced him. Since then, Allan has reached greater heights in the industry as one of the most prominent and highly regarded leaders in Latin America and worldwide.
On this milestone, the BE Founders shared their sentiments of pride:
"We have been witnesses of Allan and Laura's passion and dedication in what they do. We take great pride in their extensive accomplishment and will continue to support them in their mission as they reach greater heights."
About BE
BE is a next-generation ecosystem made up of a unique concept of 'Live & Learn' which includes e-learning and travel platforms with a comprehensive set of tools for independent business owners.
The BE ecosystem uses artificial intelligence technology, to offer a decentralized, transparent, and empowering space for people from all walks of life, regardless of their educational or financial background, to build their very own multimillion-dollar business from their smartphone.
For more information, please visit www.berules.com
Recommended Distributors