Mexican Network Marketing Leader Jaime Murillo Joins ByDzyne
February 13, 2021
By Team Business For Home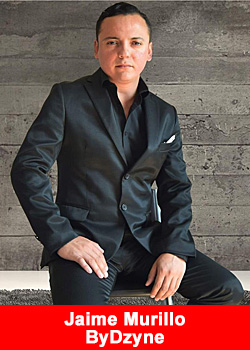 On the heels of a highly productive 2020 launch in Colombia, Peru, and Ecuador, ByDzyne now welcomes visionary local leader Jaime Murillo to join its 'Year of Expansion' into the promising Mexican market.
With just six years of network marketing experience, Murillo previously managed to build and lead a team of more than 20,000 people and has quickly become a prominent star in the industry. He is well-known for his passion, focus, discipline, and determination, and is a major coup for the company.
According to Murillo, everything ByDzyne had to offer made his decision to join quite easy.
"I connected quickly with ByDzyne because of the executive team's valuable experience, the innovation of their products and services, and the massive projection of the company's future," shared the young icon. "I am extremely confident in joining this top-notch company because I know that I can really build a long-term future here, and in the process help thousands of people build real residual income."
ByDzyne's executive team are ecstatic with Murillo's addition, and believe he is part of the catalyst needed for massive growth in the region.
"Not only are we thrilled for the Mexican people with all that ByDzyne has to offer, but we are delighted that Jaime Murillo is part of our growing team there," shared Chad Chong, co-founder of ByDzyne. "He is visionary, full of zeal, and committed to making a difference for his people."
Recognized worldwide for its alluring culture, cuisine, and being the 10th most populated country in the world with over 130 million citizens, Mexico will also now be home to the limitless opportunities that ByDzyne is sure to bring. If the previous two years are any indication, the local citizens can expect the very best—cutting-edge "culture-crafted" products, lucrative business ventures, and a company fervently committed to celebrating its people.
"We are here to create unprecedented success in the industry and because of ByDzyne's unbelievable track record, we have all the confidence in the world to not only add to those achievements, but actually take it to another astronomical level."  
Exclaimed Murillo.
El Líder Mexicano Jaime Murillo se une a ByDzyne
Tras un lanzamiento altamente productivo en Colombia, Perú y Ecuador en 2020, ahora ByDzyne da la bienvenida al visionario líder local Jaime Murillo para que se una al "Año de Expansión" en el prometedor mercado mexicano.
Con sólo seis años de experiencia en marketing de redes, Murillo ha logrado construir y dirigir un equipo de más de 20.000 personas y se ha convertido rápidamente en una estrella prominente en la industria. Es conocido por su pasión, enfoque, disciplina y determinación, y es un acontecimiento muy importante para la compañía.
Según Murillo, todo lo que ByDzyne tiene para ofrecer hizo que su decisión de unirse fuera bastante fácil.
"Conecté rápidamente con ByDzyne por la valiosa experiencia del equipo ejecutivo, la innovación de sus productos y servicios, y la enorme proyección de futuro de la empresa", compartió el joven icono. "Tengo mucha confianza en unirme a esta empresa de primera categoría porque sé que realmente puedo construir un futuro a largo plazo aquí, y en el proceso ayudar a miles de personas a construir ingresos residuales reales".
El equipo ejecutivo de ByDzyne está extasiado con la incorporación de Murillo, y cree que es parte del catalizador necesario para el crecimiento masivo en la región.
"No sólo estamos emocionados por el pueblo mexicano con todo lo que ByDzyne tiene para ofrecer, sino que estamos encantados de que Jaime Murillo sea parte de nuestro creciente equipo allí", compartió Chad Chong, cofundador de ByDzyne. "Es visionario, está lleno de determinación y se ha comprometido a marcar la diferencia para su gente". 
Reconocido en todo el mundo por su seductora cultura, gastronomía y por ser el décimo país más poblado del mundo con más de 130 millones de ciudadanos, México también será ahora el hogar de las ilimitadas oportunidades que ByDzyne seguramente traerá. Si los dos años anteriores sirven de indicación, los ciudadanos locales pueden esperar los mejores productos "hechos por la cultura" y de vanguardia , lucrativos negocios y una empresa fervientemente comprometida con la celebración de su gente.
"Estamos aquí para crear un éxito sin precedentes en la industria y debido a la increíble trayectoria de ByDzyne, tenemos toda la confianza del mundo para, no sólo sumarnos a esos logros, sino llevarlos a otro nivel astronómico".
exclamó Murillo.
About ByDzyne
ByDzyne's multi-faceted approach disrupts the traditional industry model by first understanding that one size DOES NOT fit all. You were born into a particular culture, with unique tastes, interests, and desires. Therefore, ByDzyne™ was created with a purpose to celebrate your uniqueness and empower your extraordinary potential. The company's exceptional "culture-crafted" products meet distinct needs in key consumer markets, and their lucrative business opportunity was formulated to fuel your ideal lifestyle, as YOU see fit.
This customizable approach is a driving force that propels everything ByDzyne does and will do in the future. They proved this by already establishing 4 distinct verticals: Technology, Training, Travel and Transform. And 8 industries are represented in these diverse categories of products and services: Forex, Online Marketing, Internet of Things (iOT), Lifestyle, CBD, Skincare, Weight Management, and Wellness. At ByDzyne's core, they believe that this "Power of Choice" offers not just opportunity, but security.
Ultimately, the perfect home-based business would have a catalog full of ever-evolving products and services, that would be relevant to all people, available in all markets, and at a price point that everybody can afford.
ByDzyne's mission is to be the most influential economic and cultural force in the industry. Thus, the goal is to continue to expand their global footprint into multiple verticals to maximize your income opportunities, capitalize on trends, and gain market share in upcoming industries as they advance. Their experienced executive team strives to stand apart from the pack, and build a legacy you can be proud of; one you can truly call home. We are ByDzyne™. Where limitations don't exist. For more information please visit www.bydzyne.com.