Ivan Martinez And Juan Fernando Franco Achieves Royal Diamond In BE
March 15, 2021
By Team Business For Home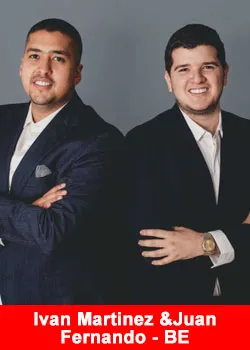 Entering the profound entrepreneurial business at a very young age, nothing has held back the powerful duo, Ivan Martinez and Juan Fernando Franco to reach the extravagant Royal Diamond ranking with BE.
From a humble beginning, the pair has come a long way playing a pivotal role as Independent Brand Influencers of the company. Upon starting in the business at such a young age, they have since then become an integral part of this domain since the last 10 years. Over the decade, both Ivan and Juan gained profound experience, built relationships and changed thousands of lives around the world. Upon achieving this success, they both humbly credit their pillars of support. The duo shares:
"BE has immensely helped us to develop and live our potential both at a personal and professional level. For the first time in 10 years of being in Network Marketing, we are living with actual residual income! It's because of BE, we have been able to invest in our dream lives, provide a secure future for our families, and empower people of all walks of life to progress and realize their own dreams too.

We really don't have words to describe Monir, Moyn and Ehsaan Islam. They are amazing people, committed to all their distributors and never failing to show and act on how much they value our community.

I personally want to extend my gratitude to Mr. Monir Islam without whom all my achievements would not have been possible. As soon as we joined BE, we felt strong certainty that we are part of a consolidated company. I wouldn't want it any other way; BE has and will be my best decision in 5 or 10 years or even a lifetime to come."
Bringing a whole lot of positivity and motivation to their team, Ivan and Juan has proved to be exemplary leaders, diligent hard workers and very passionate networkers. Truly, their contribution to BE stands pivotal in the Columbian market.
BE is pioneering in the digital technology sector and effectively transforming people's lives. The company's young Founders Monir Islam, Moyn Islam, and Ehsaan Islam upholds the pair's achievement as a prominent success story for everyone who comes next:
"Ivan and Monono bring so much value to the BE community. They're both very focused and know exactly what they want to achieve. We are so thrilled to see them hit the Royal Diamond ranking. They believe in BE's vision and so BE as a company believes in their potential."
About BE
BE is a next-generation ecosystem made up of a unique concept of 'Live & Learn' which includes e-learning and travel platforms with a comprehensive set of tools for independent business owners.
The BE ecosystem uses artificial intelligence technology, to offer a decentralized, transparent, and empowering space for people from all walks of life, regardless of their educational or financial background, to build their very own multimillion-dollar business from their smartphone.
For more information, please visit www.berules.com
Recommended Distributors BE