Seungik & Hyunsook From South Korea Achieve Blue Diamond Rank At OmegaPro
April 23, 2021
By Team Business For Home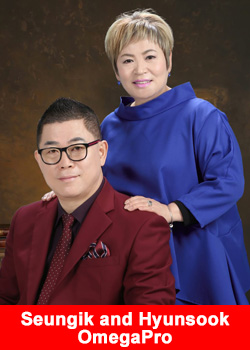 Seungik stated upon their achievement:
"I'm happy and grateful for OmegaPro and leading the OmegaPro Korea Group.
I have been in the network business for 24 years and I'm 63 years old. As a couple, Hyunsook and I built the OmegaPro business together. On 20 September, 2019 I was introduced to the Omega Pro business and immediately started with the belief that we could grow into a long term company from him who was honest and pure.
In particular, members of the corporate staff were known to Koreans as honest and full of integrity. Mike Sims was passionate and known as a successful marketer and a well-known motivating man. As he likes to put it, 'When I achieve my dream, it becomes someone's dream', bringing my passion up to 100℃. I still maintain it."
"We achieved blue diamond in March in the midst of a major fire that caused OmegaPro along with many other websites to go offline for a while. In the case of a server fire, we became more and more trusted by our CEO Andreas Szakacs' excellent crisis management ability.
I think it was able to solve this crisis well because it was a company that was made sincerely from the beginning. As Andreas said 'It is dark without light, but it is not dark without light.' 'Even though light can drive out darkness, darkness cannot drive out light.'
We want to do business at OmegaPro and enjoy a leisurely life as we get older. We will leave our traces as a legacy and achieve Black Diamond, and Crown Diamond and in the end, we are confident that the final victory will be with OmegaPro.
Change Your Life

Build Your Success

Build Your Legacy

We Are OmrgaPro Family

OmegaProKorea Group
About Omegapro
The mission of OmegaPro is to deliver a secure world class trading experience to all clients – both retail and institutional. We continually invest in new technologies and people, to provide our clients with a diverse range of trading products and exceptional trading outputs.
Moreover, we put a major emphasis on account security – we use the most advanced tools and encryption protocols and provide plentiful market liquidity to ensure your capital. Thanks to the vast market volume that OmegaPro handles and our strict risk policies, we can ensure that your account with us is secure, while connecting you to the fast paced global markets.
For more information please visit: www.omegapro.world