Carolina Caamano & Keylin Masis Achieve Royal Diamond Rank At BE
May 1, 2021
As all progress usually takes place outside the comfort zone, the same holds good for Carolina Caamano and Keylin Masis who follow their passion, pushing beyond their own limits, seizing opportunities and leading a life of true satisfaction and joy.
The duo is greatly hailed for their enterprising yet prudent style of business. After having recently achieved the Presidential Diamond rank, they stunned everybody for being announced as Royal Diamonds not long after.
To be a Royal Diamond in BE, one should earn revenue of at least $1 Million sales total in a four-week cycle, which they did and in a record-breaking time of 5 months.
Growing up, they were raised with the strong support and guidance of their parents, leading them to become experts in multiple languages and landing successful careers. However, Carolina and Keylin envisioned a different life for themselves – a life where they could gain financial independence, to support their families and fulfill their dreams.
Despite sound academics, the duo found themselves unhappy in their professions and realized that they were not meant for regular jobs leading them to explore greater opportunities to generate income.
In 2019, they joined hands with BE for an extraordinary opportunity. With access to a wide-ranging set of solutions and techniques for independent business owners like them to flourish, their success centered on a robust foundation. With BE, the duo found a great sense of belongingness.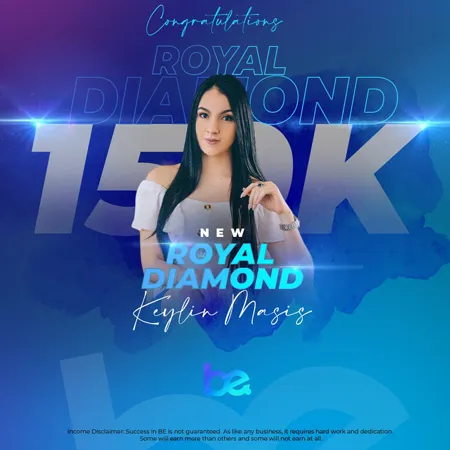 Today, Carolina and Keylin focus on not just their own accomplishments but also on mentoring hundreds of top-performing teams.
A Forbes' survey asserts that the grand slams of entrepreneurship come from young, passionate, and dedicated individuals. No scam or fraud — the successes achieved by young entrepreneurs around the world are solely based on their talent, commitment, and perseverance.
Undeniably, Carolina and Keylin have already built a strong footing in the network marketing industry. For this, they are thankful to God, their mentors & team and the BE founders- Moyn Islam, Monir Islam and Ehsaan Islam, who are thriving forward in helping millions of people worldwide to live their full potential.
The duo is proud to be an important part by contributing towards BE's mission of passionately leading a community that enables the world to fulfil their dreams and impact others by granting the opportunity to be the best version of themselves for a better tomorrow.
About BE
BE is a next-generation ecosystem made up of a unique concept of 'Live & Learn' which includes e-learning and travel platforms with a comprehensive set of tools for independent business owners.
The BE ecosystem uses artificial intelligence technology, to offer a decentralized, transparent, and empowering space for people from all walks of life, regardless of their educational or financial background, to build their very own multimillion-dollar business from their smartphone.
For more information, please visit www.berules.com
Disclaimer: Everyone's results vary and are not typical. Just like with any business, it requires hard work, skillset, and dedication. Someone's results can be exceptional than others. There will undoubtedly be IBPs who will earn less while others will earn much more. BE does not guarantee any level of income or success to any IBP. Refer to the BE Compensation Plan for the complete details. Additionally, to know more look for the BE Opportunity Video, BE Reviews and the BE Compensation Plan. To see full income disclosure please visit www.berules.com
Recommended Distributors