Hiren Dholariya From India Achieves Black Diamond Rank At OmegaPro
May 10, 2021
By Team Business For Home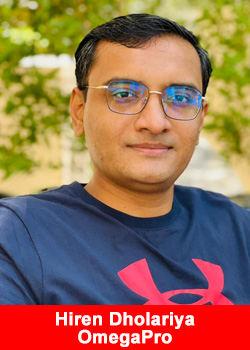 OmegaPro is proud to announce the tremendous achievement coming from India.
Mr. Hiren Dholariya has reached the Black Diamond rank and stated upon his achievement:
"I've had the honor of creating an extremely influential team in OmegaPro called 'Dynamic Team India' which has had so many rank achievements, all of which have made this possible.

I've always had the same mission since the day I invested with OmegaPro, that was, helping change the lives of those around me.

I get a lot of happiness out of this and it's made easier in the fact that OmegaPro knows better than anyone how to satisfy leadership, the team and our clients.

My advice to everyone is to understand that self motivation is what makes you change your life. Keep doing the work until you get what you want. I know OmegaPro gives that opportunity."
About Omegapro
The mission of OmegaPro is to deliver a secure world class trading experience to all clients – both retail and institutional. We continually invest in new technologies and people, to provide our clients with a diverse range of trading products and exceptional trading outputs.
Moreover, we put a major emphasis on account security – we use the most advanced tools and encryption protocols and provide plentiful market liquidity to ensure your capital. Thanks to the vast market volume that OmegaPro handles and our strict risk policies, we can ensure that your account with us is secure, while connecting you to the fast paced global markets.
For more information please visit: www.omegapro.world