Michael Lazare From France Achieves Diamond Rank At OmegaPro
May 24, 2021
By Team Business For Home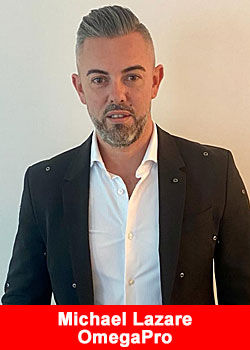 15 Year Industry Veteran Michael Lazare has achieved the Diamond Rank with OmegaPro after six months joining and is proud to touch on his time there.
"I heard about OmegaPro when they first launched a couple years ago but wasn't very interested in FOREX trading They proved themselves a success in that regard and when I found out they were launching Cryptocurrency trading, I decided to give it another look as it was more in my line of interest.

I spent a good month reaching out to then current and former distributors to find their opinion on the company and it was unanimous that OmegaPro is a wonderful company that is to be trusted."
On his tips and advice on what it takes to duplicate his success.
"I have been doing network marketing for 15 years and I have had teams of more than 130,000 people around the world. The keys to success for me in mlm is perseverance and for that one must have a solid WHY. Be Coachable and truly believe in your dreams."
"Whatever you do, no matter how small the task, always do it in an extraordinary way!
When reading the book, "The Four Agreements"  I always keep the fourth agreement very engraved, which is: "Allways do the best you can".
About Omegapro
The mission of OmegaPro is to deliver a secure world class trading experience to all clients – both retail and institutional. We continually invest in new technologies and people, to provide our clients with a diverse range of trading products and exceptional trading outputs.
Moreover, we put a major emphasis on account security – we use the most advanced tools and encryption protocols and provide plentiful market liquidity to ensure your capital. Thanks to the vast market volume that OmegaPro handles and our strict risk policies, we can ensure that your account with us is secure, while connecting you to the fast paced global markets.
For more information please visit: www.omegapro.world