Daniel Ortiz Achieves Black Diamond Rank At OmegaPro
July 15, 2021
By Team Business For Home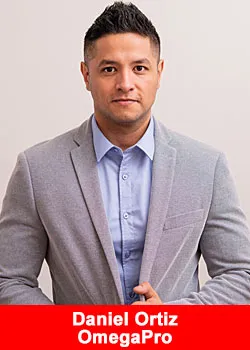 OmegaPro is proud to announce that Daniel Ortiz has achieved the rank of Black Diamond with the company. For a more in depth interview with Daniel Ortiz, please see his prior article with Business for Home HERE
Daniel Ortiz shares with us his thoughts regarding this monumental achievement:
"After two years of blood, sweat and tears we have truly achieved more than can be put in words. The team work and professional culture, based on gratitude, service, big vision, commitment and hard work have been clearly accomplished.

Have had incredible results that are positively impacting the lives of millions of people in a short period of time.
Dabniel has advice for all those looking at the OmegaPro opportunity:
"Believe in the impossible and in 6 months of hard work and focus, you can put yourself ahead 5 years in life. What most people tell you can be achieved with twenty or thirty years of hard work and dedication, one can have in a couple years of your life with this company, enjoying the good life.

You can not have this however if you are not willing to truly put in the work and dedication. I've spent a lot of time traveling to different countries, going through countless cities. The key ingredient is to lead by example and do what everyone tells you is impossible."
About OmegaPro
The mission of OmegaPro is to deliver a secure world class trading experience to all clients – both retail and institutional. We continually invest in new technologies and people, to provide our clients with a diverse range of trading products and exceptional trading outputs.
Moreover, we put a major emphasis on account security – we use the most advanced tools and encryption protocols and provide plentiful market liquidity to ensure your capital. Thanks to the vast market volume that OmegaPro handles and our strict risk policies, we can ensure that your account with us is secure, while connecting you to the fast paced global markets.
For more information please visit: www.omegapro.world.