Jessica Rheault From Canada Achieves President Rank At ByDzyne
July 2, 2021
By Team Business For Home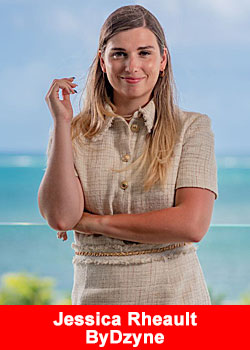 ByDzyne has continued its formidable ascendency in the international market with the arrival of up-and-coming Canadian leader Jessica Rheault, who recently joined the company and achieved the President ranking in her first 15 days.
A President generates over $200,000 in sales revenue during a half-a-month span. * 
Rheault, who hails from the French-speaking city of Montreal, was confident that she would thrive wherever she landed next because it had to be an opportunity that kindled her fire of helping people and giving back.
While she was blown away by many facets of ByDzyne's connected company culture—most notably visionary leadership with individual needs in mind and the variety of top-of-the-line products and services—she was most encouraged by the influential platform it provided to truly change lives and help others establish true time and financial freedom.
"My goal has always been to impact as many people as possible, specifically women, and to inspire them to believe anything is possible with the right mindset and the right environment.

ByDzyne has allowed me to do just that, and I am so grateful for all the support that we have here and for the strong presence in our corporate team and leaders around the world that brings out the absolute best in each other,"
shared a grateful Rheault.
Chad and Nattida Chong, ByDzyne's cofounders, are ecstatic for their new President and are convinced there's even more to come for her and her team.
"Congratulations to our newest President Jessica Rheault! You are so hard-working, you bring such enthusiastic energy, and you have a deep care for people that will take you far in this business.

We are very proud of you and cannot wait to see how much more you will achieve here and how many more lives you will impact," declared the Chongs.
The young sensation also carries extensive experience as a business coach, has built prominent teams from over 20 countries, and has quickly become well-known in the Canadian and French markets as a top recruiter. She says her next goal is to accomplish the 2-Star President ranking and hopes to do it in just three cycles. While she knows it will require even more diligence and hard work, Rheault's motivation remains nestled in gratefulness and positivity.
"I have so much to be thankful for. For my life partner, best friend, and mentor, Aderly Dupont, for my family for supporting me, especially my Dad who has been by my side through it all, and for our ByDzyne leadership and corporate team for their patience and encouragement.

All of this has reminded me that the key is to keep going, keep dreaming, to help as many people as possible, and love every second of the process," uttered the Canadian leader.
Fortunately for Rheault and the rest of BD Nation, the process is saturated with unlimited options and possibilities. As ByDzyne's owners continue to innovate, expand globally, and generate endless opportunities for their Brand Ambassadors, it should only be a matter of time before Rheault's dreams become reality.
*ByDzyne makes ZERO income claims. It takes hard work and dedication to make a substantial income. All results may vary. For the full income disclosure please visit www.ByDzyne.com
ByDzyne accueille la nouvelle présidente canadienne Jessica Rheault
ByDzyne a poursuivi sa formidable ascension sur le marché international avec l'arrivée de la jeune leader canadienne Jessica Rheault, qui a récemment joint l'entreprise et a atteint le rang de Présidente au cours de ses 15 premiers jours.
Un président génère plus de 200,000 $ de chiffre d'affaires sur une période d'un demi-mois. *
Rheault, qui est originaire de la ville francophone de Montréal, était convaincue qu'elle prospérerait partout où elle atterrirait ensuite, car il devait s'agir d'une opportunité qui l'allume en aidant et en redonnant aux autres. Alors qu'elle a été époustouflée par de nombreuses facettes de la culture d'entreprise de ByDzyne, notamment un leadership visionnaire avec les besoins de chacun à coeur et la variété de produits et services haut de gamme, elle a été très encouragée par la plate-forme influente fournie pour vraiment changer des vies et aider les autres à établir une véritable liberté financière et temporelle.
« Mon objectif a toujours été d'avoir un impact sur autant de personnes que possible, en particulier les femmes, et de les inciter à croire que tout est possible avec le bon état d'esprit et le bon environnement.

ByDzyne m'a permis de faire exactement cela, et je suis très reconnaissante pour tout le soutien que nous avons ici et pour la forte présence de l'équipe corporative et des leaders du monde entier qui font ressortir le meilleur de chacun », a partagé avec gratitude Rheault.
Chad et Nattida Chong, les cofondateurs de ByDzyne, sont ravis de leur nouvelle Présidente et sont convaincus qu'il y a encore plus à venir pour elle et son équipe.
« Félicitations à notre nouvelle Présidente Jessica Rheault ! Tu es si travaillante, tu apportes une énergie si enthousiaste et tu as un profond souci pour tes gens, ce qui te mènera loin dans cette industrie.

Nous sommes très fiers de toi et nous sommes impatients de voir tout ce que tu vas accomplir ici et combien de vies tu impacteras », ont déclaré les Chong.
La jeune sensation possède également une vaste expérience en tant que coach, a constitué des équipes dans plus de 20 pays et s'est rapidement démarquée sur les marchés canadien et français en tant que top recruteuse. Elle dit que son prochain objectif est d'atteindre le classement de Président 2 étoiles et espère le faire en seulement trois cycles. Même si elle sait que cela nécessitera encore plus de diligence et de travail acharné, la motivation de Rheault reste nichée dans la gratitude et la positivité.
"J'ai tellement de gens à remercier. D'abord mon partenaire de vie, meilleur ami et mentor, Aderly Dupont ainsi que ma famille pour m'avoir soutenu, en particulier mon père qui a été à mes côtés tout au long de ma carrière, et pour notre équipe corporative et de leaders de ByDzyne pour leur patience et leurs encouragements.

Tout cela m'a rappelé que la clé est de continuer, de continuer à rêver, d'aider le plus de personnes possible et d'aimer chaque seconde du processus », a déclaré la leader canadienne.
Heureusement pour Rheault et le reste de BD Nation, le processus est rempli d'options et de possibilités illimitées. Alors que les propriétaires de ByDzyne continuent d'innover, de se développer à l'échelle mondiale et de générer des opportunités infinies pour leurs ambassadeurs de marque, ce n'est qu'une question de temps avant que les rêves de Rheault deviennent réalité.
*ByDzyne ne fait AUCUNE affirmation de revenus. Il faut du travail acharné et du dévouement pour faire un revenu substantiel. Tous les résultats peuvent varier. Pour la divulgation complète des revenus, veuillez visiter www.ByDzyne.com