Leonard Houssin From France Achieves Diamond Ambassador Rank At iGenius
August 25, 2021
By Team Business For Home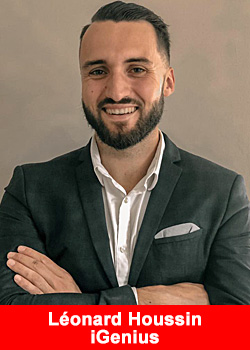 Leonard Houssin has had great success with iGenius. He recently reached the rank of Diamond Ambassador and has become a well-respected leader in the iGenius community.
He believes that his success stems from his consistency. He repeats the same actions every day, and those actions have now formed into habits that have helped him build a thriving business.
Leonard is a twenty-four-year-old from Le Mans, France. When Leonard was 18 years old, he started a career as a high-level athlete, but had a lot of questions about his future and what he wanted to do long term. He knew what he didn't want to do, but he couldn't quite figure out what he wanted long term. Leonard continued his studies and was exploring different career paths when he was introduced to the world of Network Marketing.
Leonard thought Network Marketing was a good fit. He loved that it offered a good balance between work life and personal life. Leonard also liked that he was in control of his income, knowing that his success was dependent on the time he was willing to put into the business.
All of this new knowledge persuaded Leonard to join the business and commit to it full time. 
Now, with six years of Network Marketing experience under his belt, Leonard is finding some great success building his business around the iGenius opportunity.  Leonard has been a part of iGenius from the company's conception. He said,
"I decided to join iGenius because the company really brings extraordinary services. This is the first time in my career that I've seen services that bring so much value to the customers.

The vision of the society, the leadership of the society, the values of the society, and the ethics of the society, is what helped me realize that iGenius was exactly what I was looking for."
Leonard loves people. That's one of the many reasons why he chose Network Marketing and has built up a successful business. He refers to the industry as "relationship marketing". He said,
"Relationship marketing is a real mission for me. It's important to convey good values. Conveying good values can bring more value around you and it can be an extraordinary experience. I've often been told, 'Love people, and you'll find success'." 
Leonard is a great example of being a product of the product. He engages in the iGenius products, his favorite being CRYPTOelite, powered by EndoTech. CRYPTOelite gives iGenius members access to EndoTech's powerful artificial intelligence crypto trading software. Leonard says CRYPTOelite has "extraordinary quality" and enjoys the services EndoTech provides for iGenius members. Leonard says the following about CRYPTOelite,
"In financial investments, I believe two concepts are central to success; Timing and risk/reward. CRYPTOelite gives both perfect timing, thanks to the power of artificial intelligence, and an excellent risk reward given the relatively low drawdown.

The high-level technical team behind the product is top notch and responds to all inquiries."
Leonard lives by two sayings, "Work beats talent", and "Life is short, play hard!" His next objectives in his business are to continue to impact as many people as possible, to ensure iGenius keeps growing internationally, and to continue sharing the iGenius values and opportunity with others.
About iGenius
iGenius helps members amplify their quality of life by providing leading edge financial tools, education, and opportunities.
iGenius can help you take control of your future and start living brilliantly. For more information about iGenius, visit: www.igeniusglobal.com.
iGenius LLC is a wholly owned subsidiary of Investview Inc., (OTCQB:INVU), a public company. For more information on Investview and the ability to participate in Investview's growth, please visit investview.com or email [email protected]
Recommended Distributors iGenius