Peter Gurschler From Austria Achieves Double Blue Diamond Rank At Success Factory
August 31, 2021
By Team Business For Home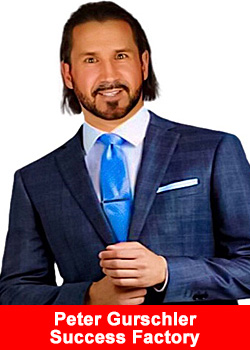 Peter Gurschler, a Success Factory leader from Austria, starred a rank recognition article on our portal just a couple of months ago, and now we are featuring him again in order to recognize and celebrate his latest achievement: the Double Blue Diamond rank.
Let's remember some facts about this Austrian leader. Peter Gurschler is a professional networker with over 8 years of experience, however, he can boast excellent results in his career. Having joined Success Factory by the invitation of Iulian Cimbala few short months ago, Peter has climbed to the ranks of Diamond, Blue Diamond and now Double Blue Diamond and is quickly on the path to Black Diamond.
"In my opinion, the most successful people in any area have focus, routines, rituals and systems. Basically, they've "figured out" what it takes to win and they have perfected it. This is the principle I follow.

I like referring to a quote by Aristotle "excellence is a habit". I developed a habit of winning, a habit of excellence."
As a former professional hockey player and ski instructor, Peter knows the rigors required to be the best. He also knows how to encourage, coach, set expectations and require accountability to create high performing teams. Using his methodologies, Peter has successfully created three Diamond builders on his team, with more people reaching new ranks every month.
The growth of Peter's team has been an authentic explosion of activity and results in the Swiss, Austrian and German speaking areas of Europe. And now he is even expanding into Canada.
Peter has had great success with people who are new to the industry:
"I hold daily meetings that are both fun and serious, with strategy, coaching, learning how to start a business and I take full responsibility for others.

I love people, I believe in good people, I have talents, and my job is to share my talents. I love to lift others. And I'm glad to say that my people are making money, they're independent and they are enjoying time and money freedom."
Peter has created a very strong team culture. While he is certainly at the heart of the system, with great energy and vision, he's also very humble, down to earth and just does the work.
Every new person that joins his team gives full focus in their first 30 days. With great leaders at their side, they take the fear away and help each person make money in the first 48 hours and achieve their goals in their first month.
The daily meetings are live, cameras on, energetic zoom conferences. They start each meeting with three things they're grateful for and they focus on becoming the best versions of themselves every day.
They are also expected to self develop, stay healthy, drink water, eat clean, take breaks and walk in the woods, personally develop with business books and spend proper time with their family.
There is no doubt that excellence is truly a habit for Peter and his team. Success Factory expresses its pride to be partnered with great people like Peter: people of integrity, innovation, with a heart for freedom and making great contributions as powerful leaders.
About Success Factory
Success Factory is a network marketing company whose main goal is the promotion of human potential and supporting latest technology, relying on innovative and creative proposals that bring real solutions to the lifestyle in the 21st century.
The product catalogue of the company is mainly digital, covering the spheres of technology, education, sales skills and financial expertise. All that always improving quality, usability and exceptionality and offering its sales force different products to work with. The most outstanding items within the extensive ecosystem of the company are Forex Insiders, the View, B.A.N.K., Dagcoin, and Dagpay.
Success Factory has come to be the company that transforms network marketing, being, above all, a company that detects, trains and empowers the sales professionals that will be the great legends of the industry tomorrow. Find more information on the company's website www.successfactory.com.
Recommended Distributors Success Factory