Angie Amaya From Colombia Achieves Crown Diamond Rank At OmegaPro
October 7, 2021
By Team Business For Home
Only two years ago, Angie Amaya embarked on the adventure of a lifetime when she was presented with the business opportunity of OmegaPro.
Today, she can celebrate the prestigious and well-earned rank of Crown Diamond, a truly amazing achievement, and Angie is beyond excited about it:
"It's incredible how fast those two years have passed! It seems only yesterday I was at the threshold of a new opportunity, and today, I already celebrate being the first Crown Diamond woman in the world.

If you really have a clear objective, if you really love something and if you really want something, you will never give up until it becomes a reality."
Thanks to God, who is my main guide, to all the corporate staff, to our manager for Latin America, to our Crown Diamonds and thanks to my organisation: without a doubt, I have the best leaders, the most professional and dedicated to their teams.
I am very proud to be part of this great determination to change the lives of the people around you. Their total commitment was a great inspiration to me.
Only a few days ago, Angie Amaya celebrated her accomplishment together with her team and the corporate staff at a spectacular event in Dubai, one of the fist physical on-site events of the new post-pandemic era.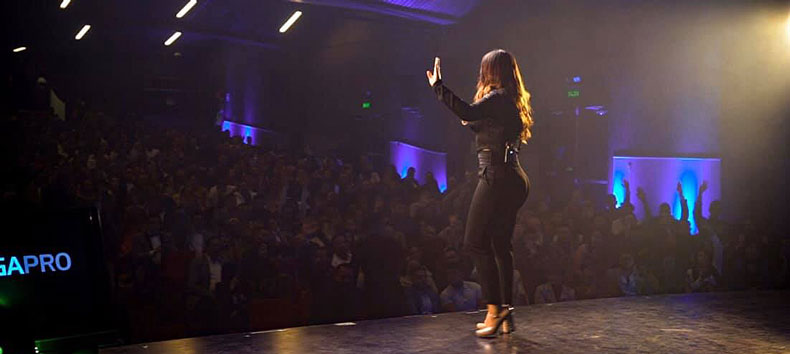 She also admits that the greatest reward for this high rank is the fact of having changed the lives of 100 thousand people throughout the whole Latin American continent.
"It is a great dream to be able to unite all the countries of Latam for the same goal: to provide people with financial solutions through a real digital product.

What I liked the most was that we're a great opportunity in these times of pandemic.

Our product is the most suitable and allows us to grow and help people to enter this new digital economy because we know that the industrial economy is suffering at the moment."
Angie takes specific pride in having been able to help women in Latin America. And it's to them, all the women in the world, whom she dedicates her achievement:
"I know that many women have been unconfident, maybe confused, without much support or strength, the same I felt at some point.

And today, I want to share this with them: we also have female representation at the highest ranks in this company and in the industry. It's something that motivates me a lot every day.

There will certainly be a lot of female millionaires coming and younger than me."
Angie calls herself and the team the new generation of MLM. In her trainings, she would focus particularly on the attitude and the right thinking, something that she calls "hacking the mind":
"I always say it like this: if you risk hacking your mind, your chances will be greater, but you have to make that decision.

We deserve to do extraordinary things to be remembered for, but we have to get past that barrier of what people will say, or how it will turn out, or if it will or not work."
Angie Amaya stays active and on her path to the next rank, and we will surely see much more of her, not only in Latin America, but all over the world.
About Omega Pro
The mission of OmegaPro is to deliver a secure world class trading experience to all clients – both retail and institutional. We continually invest in new technologies and people, to provide our clients with a diverse range of trading products and exceptional trading outputs.
Moreover, we put a major emphasis on account security – we use the most advanced tools and encryption protocols and provide plentiful market liquidity to ensure your capital.
Thanks to the vast market volume that OmegaPro handles and our strict risk policies, we can ensure that your account with us is secure, while connecting you to the fast paced global markets. For more information please visit: www.omegapro.world.