Fernando López From Ecuador Achieves Diamond Rank At OmegaPro
October 29, 2021
By Team Business For Home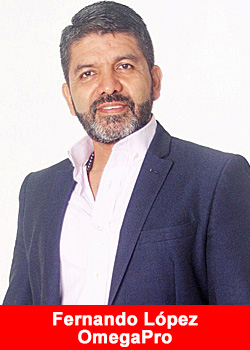 OmegaPro is pleased so announce that Fernando López From Ecuador has achieved the coveted rank of Diamond with the Company. Fernando was happy to share some details on his accomplishment for Business For Home.
"Three years ago I joined Omega Pro as my last hope, it was my lifeline at that point of my life.  I always had a dream in my mind; a goal to be met and the moment I got to know the business I knew that it would be possible here.

These years with the company have changed my life and that of my family.

Thanks to the effort, sacrifice and support made by a whole team that accompanied me on the way to improve my income and live the life I always wanted."

"Thanks to OmegaPro, over 4,000 people in Ecuador have improved their lifestyle and that is why we continue to support the team and fight to change the lives of more every day.

Also thank the owners of the company, the unconditional support of Juan Carlos Reinoso as manager of Latin America, and Oscar Montoya who has been my guide through this wonderful path and most importantly my family who have walked by my side all this time.

It has not been an easy road, the most difficult thing has been to separate myself from my old beliefs and adapt to this new model of making money. But with effort and sacrifice I was able to advance along this wonderful path."
About OmegaPro
The mission of OmegaPro is to deliver a secure world class trading experience to all clients – both retail and institutional. We continually invest in new technologies and people, to provide our clients with a diverse range of trading products and exceptional trading outputs.
Moreover, we put a major emphasis on account security – we use the most advanced tools and encryption protocols and provide plentiful market liquidity to ensure your capital.
Thanks to the vast market volume that OmegaPro handles and our strict risk policies, we can ensure that your account with us is secure, while connecting you to the fast paced global markets. For more information please visit: www.omegapro.world.