Hak Boon Kim From South Korea Achieves Blue Diamond Rank At OmegaPro
October 24, 2021
By Team Business For Home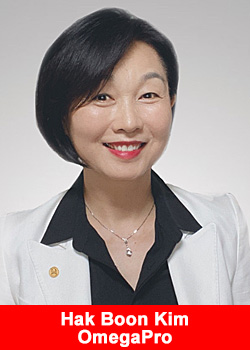 OmegaPro is pleased to announce that Hak Boon Kim, from South Korea has achieved the prestigious rank of Blue Diamond with the company.
"I initially joined OmegaPro with the sole purpose of collecting Bitcoins. I had failed in a company prior and I took the time to find a real, sincere company with the proper management and sustainable marketing.

I came upon OmegaPro in September of 2019 and without hesitation I made the decision to join and it has proven to be a wonderful decision.

It's definitely turned into an endevor far beyond acquiring more currency. I'm a part of an effort to now help the World."
Kim states, that OmegaPro's consistency and an easy to follow system allowed her a clear doorway to massive success
"I believe that OmegaPro will be the next Amway in the financial sector of Network Marketing.

It was possible for me to achieve my goal of Blue Diamond simply because the company keeps its promises and is consistently growing.

I've learned from great mentors and duplicated the system and we all work together with full trust and passion."
"I hope that all family members of OmegaPro are also proud and convinced of the company and will help to continue developing the company in becoming the absolute best global financial network group. I am really happy to be with OmegaPro. I really appreciate this. I will always support Omega Pro."
About OmegaPro
The mission of OmegaPro is to deliver a secure world class trading experience to all clients – both retail and institutional. We continually invest in new technologies and people, to provide our clients with a diverse range of trading products and exceptional trading outputs.
Moreover, we put a major emphasis on account security – we use the most advanced tools and encryption protocols and provide plentiful market liquidity to ensure your capital.
Thanks to the vast market volume that OmegaPro handles and our strict risk policies, we can ensure that your account with us is secure, while connecting you to the fast paced global markets. For more information please visit: www.omegapro.world.