Kim Thekhan From South Korea Achieves Black Diamond Rank At OmegaPro
October 15, 2021
By Team Business For Home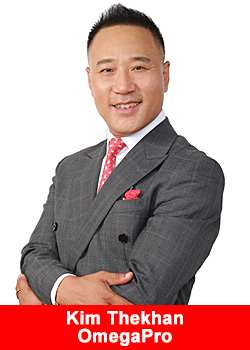 Kim Thekhan, from South Korea has achieved the monumental success of reaching the Black Diamond rank with OmegaPro.
He shares with Business for Home an intimate look at how he got to this wonderful place in time.
"OmegaPro is one of the best choices I've made in my life. Before I get there however, I'll share a little about my history.

During the years after the Korean war in 1950, many people died and the survivors lived in extreme poverty.
I was born to a poor family and it was this background that led me to striving toward a successful life. It was a very hard endeavor however; at a point where I was exhausted, taking care of five kids – the world seemed very cold to me. I knew I had to find a different path than I was on."
According to Kim Trekhan it was his discovery of cryptocurrency that opened the doors to a new life.
"In 2015 I began to take an interest in crypto, I researched like crazy watching many videos, reading books and absorbing everything I could on the subject.

Through a series of trial and errors, meeting new people, etc. I was introduced to the founders of OmegaPro during the summer in Korea, and my life has been changed and I'm full of hopes and dreams ever since then."
"During the last 25 months, OmegaPro has always kept its promises and consistently proves their mission statement by always improving.
Kim details some of his keys to success and what it took to get to this level.
"These last two years I've toured the country 5 days a week doing seminars and will continue doing this. Despite the restrictions of Covid-19, we have prevailed. Many colleges around the country are working with me and as a group we have more than 100 high ranking achievers of at least Platinum.
Now that I have economic freedom, helping others do the same is what brings happiness and many more are standing at the door of success. With that, I'll close with the fact that there is no special key to success. Just keep doing what you decided to do.
"If you are just sitting there and thinking that someone else from the outside will come to help you, you will never go to the top.

Only the people who trust the company, the team, yourself and the rule of the universal laws can go to the top.
I hope my story can come to the mind of all the OmegaPro members in this world. And For the biggest part of our strategies, to our founders and all the management and staff of OmegaPro, I wish them good health!"
About OmegaPro
The mission of OmegaPro is to deliver a secure world class trading experience to all clients – both retail and institutional. We continually invest in new technologies and people, to provide our clients with a diverse range of trading products and exceptional trading outputs.
Moreover, we put a major emphasis on account security – we use the most advanced tools and encryption protocols and provide plentiful market liquidity to ensure your capital.
Thanks to the vast market volume that OmegaPro handles and our strict risk policies, we can ensure that your account with us is secure, while connecting you to the fast paced global markets. For more information please visit: www.omegapro.world.