Amarachi Ugoji Of Nigeria Achieves Blue Diamond Rank At OmegaPro
November 8, 2021
By Team Business For Home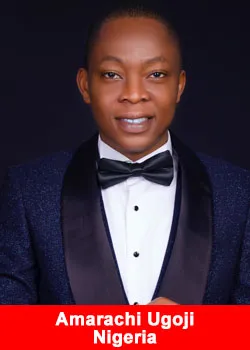 OmegaPro is thrilled to announce that Amarachi Ugoji of Nigeria has achieved the phenomenal rank of Blue Diamond with the Company. Mr. Ugoji has shared with Business for Home a message on his achievement.
Amarachi states that his success with OmegaPro is his greatest ever and it's the overall stability of the company that allows for such success.
"I will begin by calling OmegaPro a blessing, because it is way more than a business. Having been in the industry of Networking Marketing for about 15 years now with minimal success, my achievement as a Blue Diamond in OmegaPro is the greatest accomplishment in my entire career as a Networking Marketing Professional.

I joined OmegaPro in February 2019 as part of the  pioneering members in Africa and started building my organization in July the same year.

It was clear from the very beginning that OmegaPro had the potential to make history as a category leader in our industry.

The clear Vision of the  creative and dodged visionary founders, their integrity and transparency was reassuring that they were committed to leading millions of people globally to financial freedom, leveraging on different components of the financial services ecosystem."
Mr. Ugoji shares details on his accomplishment along with specifics on what it took to achieve the coveted rank of Blue Diamond and unveils the power of compounding interest.
"OmegaPro offers two pathways to wealth. One is for customers and two for Entrepreneurs. Today, I offer you both for balance in your pursuit of wealth.

The fulfillment of achieving Blue Diamond is in helping over 13,000 entrepreneurial minded individuals thriving in this challenging economic times occasioned by the Covid pandemic." 
"As for the 2nd pathway, I really wish that everyone could understand the power of compounding interest, because anyone with such knowledge would jump aboard. OmegaPro is using this strategy to create freedom for over 900,000 customers.
Educating people to join OmegaPro and embrace the 8th wonder of the world is the responsibility in which I have committed myself and  teaching this is the secret to my success.
'Give enough people what they want and you will have everything you want.'
This quote still holds true today and our compensation in OmegaPro is built on it. Helping more people faster is my mantra and it's surely the easier route to the top in OmegaPro.
"Finally I want to thank the founders of OmegaPro and the Vice President of Sales for providing and supporting us all in making our dream come true."
About OmegaPro
The mission of OmegaPro is to deliver a secure world class trading experience to all clients – both retail and institutional. We continually invest in new technologies and people, to provide our clients with a diverse range of trading products and exceptional trading outputs.
Moreover, we put a major emphasis on account security – we use the most advanced tools and encryption protocols and provide plentiful market liquidity to ensure your capital.
Thanks to the vast market volume that OmegaPro handles and our strict risk policies, we can ensure that your account with us is secure, while connecting you to the fast paced global markets. For more information please visit: www.omegapro.world.