VYVO Launches In India
November 6, 2021
By Team Business For Home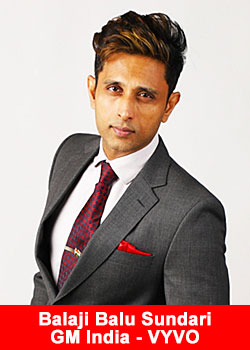 Rebuilding, Reinventing, Reimagining: Vyvo Sweeps India. Vyvo is Paving the Way for its Citizens as it Launches Phase 2 in India.
Led by a "Visionary of the Year" Globee Award-winning CEO, and following a goal-smashing Phase 1 roll-out, Vyvo is moving into Phase 2 of its launch in India, under the accomplished guidance of Balaji Balu Sundari, aka "Bala," India General Manager and Sales Director.
As pioneers of a unique home-based tech business, a true category-creator in the direct selling realm, Vyvo is attracting those who have a vision of the emerging fusion of wearable technology, health and wellness, blockchain and AI. Combined into one business under the leadership of CEO Fabio Galdi, Vyvo leverages this inevitable convergence of industries for new-world entrepreneurs.
According to McKinsey Global Institute, with more than 825 million internet subscribers, India is one of the largest and fastest growing markets for tech-based enterprises.
In the context of India's emerging digital ecosystems and increasing connectedness, Vyvo is clearly at the right place and the right time, and is standing out amongst other ventures in the traditional digital health space.
"Post Covid-19, people across the Indian market have started taking self-care very seriously, and this has further impacted technology and digital adoption positively" says Mr. Bala.

"India is well-positioned as one of the leading markets to benefit from technological and financial opportunities brought by the fusion of wellness, wearable devices, and blockchain technology."
Vyvo has created the world's first Digital Health Sharing Economy, and as one of the very few technology companies leveraging the network marketing channel, it's no surprise they built the first Business Plan developed on blockchain smart contracts years ago, ahead of the game, and just as cryptocurrency shifts from fringe to mainstream.
Vyvo's Phase 1 success in India is due to the reshaping of Vyvo's offering and strategies to further help people during a time of uncertainty.
By harnessing the twin, economy-proof pillars of health data and technology, the Vyvo business will never be overtaken by unforeseen trends or disruptions because there is always a need to monitor, improve, and protect health data. With decentralized earnings on the Ethereum blockchain, Vyvo also future proofs the business side.
Even in an unpredictable economic environment, Vyvo Members are building without in-person meetings, inventory piling, monthly fees, or other tedious elements common to network marketing companies and is a total fit for anyone who wants to benchmark their health data goals no matter what health and wellness regime they're on.
Vyvo's Business Plan caters to anyone who wants to be at the forefront of a technical revolution without needing a technical background whatsoever as their patented technology speaks for itself.
Those who understand this vision and want to join a legacy company, can learn more as Vyvo India's Phase 2 begins with an exciting Road Show, introducing thousands to this unique business in cities all across the country.
Mark your calendar and find your city below:
Delhi November 7th & 8th, 26th & 27th
Chennai November 11th & 12th, 23rd & 24th December 11th & 12th
Hyderabad   November 13th & 14th
Mumbai November 20th & 21st
Kolkata November 28th & 29th
Bangalore December 8th & 9th
Vyvo wants to share the encouraging results that are already occurring throughout India and Southeast Asia, and invite leaders to reach out to our Managerial Staff with their contact details by emailing [email protected].
About Vyvo Inc.
Vyvo is on a mission that has created a lucrative home-based tech opportunity empowering millions of people worldwide to maximize online revenue focused on precision health, prosperity, and economic well-being. Members are continuously rewarded for wearing their Vyvo LifeWatch while effortlessly contributing their biodata anonymously to a unique Global Health Fintech Platform, enabled by patented Life Sensing Technology™ and secured by blockchain technology.
Vyvo is a Silicon Valley-based technology company that creates sophisticated wearable technology – proven leaders in innovation with devices that protects, monitors, and empowers people who seek an overall enhanced lifestyle. Vyvo's technology-driven mission has inspired the first self-funded Digital Health Sharing Economy where everyone can prosper. For more information, please visit Vyvo.com and join Vyvo's Facebook Community.