Youngae Lee From South Korea Achieves Blue Diamond Rank At OmegaPro
November 25, 2021
By Team Business For Home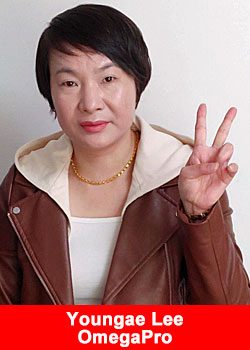 OmegaPro is pleased to announce that Youngae Lee from South Korea has achieved the outstanding rank of Blue Diamond with the company.
Lee shares with us a little regarding her journey with the company along with  a few words of encouragement and advice to others striving to achieve their dream.
According to Miss Lee, she has been with OmegaPro just over two years to achieve this monumental success and that it started with a good road to begin with:
"I started my OmegaPro business toward the end of September of 2019. I was able to see how well the company was performing at the time, along with my due diligence on the company management.

I knew all the green flags for a good chance of success were tied with them and it turned out to be an excellent decision. OmegaPro has truly been a strong partner of mine through a hard period of time."

"My success lies with the cooperation and motivation shared between myself and the rest of our team. We achieve success together.

My advice for anyone looking for similar success is to always maintain a beginners mindset and be appreciative of everything, especially the little things.
About OmegaPro
The mission of OmegaPro is to deliver a secure world class trading experience to all clients – both retail and institutional. We continually invest in new technologies and people, to provide our clients with a diverse range of trading products and exceptional trading outputs.
Moreover, we put a major emphasis on account security – we use the most advanced tools and encryption protocols and provide plentiful market liquidity to ensure your capital.
Thanks to the vast market volume that OmegaPro handles and our strict risk policies, we can ensure that your account with us is secure, while connecting you to the fast paced global markets.
For more information please visit: www.omegapro.world.