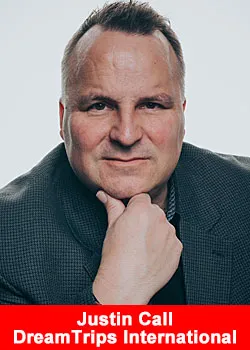 DreamTrips International Appoints Justin Call As Senior Vice President of Sales
December 15, 2021
DreamTrips International has hired Justin Call as its Senior Vice President of Sales.
"I'm excited that we were able to bring Justin on board during this exciting time as a new company.

I've worked closely with Justin in the past and will rely heavily on him to drive sales and marketing strategies. He and I will work closely with our field,"
CEO Mark Smith said.
"His experience with lifestyle and travel memberships and hyper growth companies will be relied on as we build this together."
Justin Call is a seasoned direct sales industry leader of nearly 20 years. He has held senior executive positions with large global organizations that include some of the fastest growing direct sales companies ever.
Justin has managed teams, globally, in areas such as sales, customer support, events, compliance, and field development. Throughout his career, he has valued strong relationships, authenticity and striving to keep things simple.
"I am passionate about travel and the direct sales business opportunity, where we get to work with people of all backgrounds around the world,"
said Justin Call.
"Travel is the ultimate unifier and I look forward to working with such a talented team, led by Mark & Tammy Smith, in continuing to drive this forward at DreamTrips International"
About DreamTrips International
DreamTrips International is the exclusive provider of DreamTrips® around the world. DreamTrips is the #1 travel club in the world. Just ask Siri or Bixby. For more information please visit: www.dreamtrips.com
Recommended Distributors