Sharmeeka Brooks Achieves Platinum Ambassador Rank At iGenius
February 6, 2022
By Team Business For Home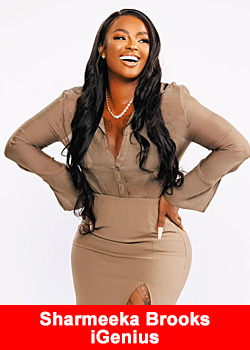 Sharmeeka (Bawselady) Brooks watched her parents move to America from Jamaica to have a better life.
She witnessed her mother work 3 jobs only to have enough to pay the bills. At the age of 14 she had to get a job because her mother's income was so restrictive that it left very little for anything outside of bills. So Bawselady took a job at a dental office where she worked until she had her first child at 18, which is when she said "the struggle began".
Bawselady felt that her mindset that putting God first and the "achieve anything in life" mentality has helped her continue on a path of unstoppable growth.
When struggles begin, you quickly find out what type of person you are. Bawselady has made it a person goal to help over 100,000 people find out who they are mentally, spiritually, and financially while remaining true to who they are.
"At iGenius I see myself assisting people to break barriers in the world of financial literacy.

I want it to be normal that the average person can understand stocks, forex, crypto, NFTs etc. I believe that iGenius is a platform where you can come to gain that knowledge and literacy."
Coming from a product based company, Bawselady is excited about the ability to reach people through a service based opportunity. She said that having a focus on financial literacy is an important piece to leadership that she can now focus on full time here at iGenius.
Bawselady was connected with iGenius through fellow entrepreneurs Darryl Drake and Bianca Shadai.
"We lead with love. Our only goal is to build a community that has respect and love.

I solidified my decision to join iGenius when I attended my 1st conference last weekend. I didn't want to meet the owners or the leaders, I went to the event to meet the people.
Because the average person in the room is a direct reflection of the owners and the leadership. Being in that environment was nothing but pure love. Everyone was so welcoming. There were so many different teams in the room and you couldn't even tell
because everybody was united.
At that moment I knew iGenius was home for me because I was looking for a great community where I could thrive in, and I can only thrive where there's love."
About iGenius
iGenius helps members amplify their quality of life by providing leading edge financial tools, education, and opportunities.
iGenius can help you take control of your future and start living brilliantly. For more information about iGenius, visit: www.igeniusglobal.com.
iGenius LLC is a wholly owned subsidiary of Investview Inc., (OTCQB:INVU), a public company. For more information on Investview and the ability to participate in Investview's growth, please visit investview.com or email [email protected].
Recommended Distributors iGenius