Validus Appoints Seasoned Networker Dr Parwiz Daud As Chief Network Officer
February 2, 2022
By Team Business For Home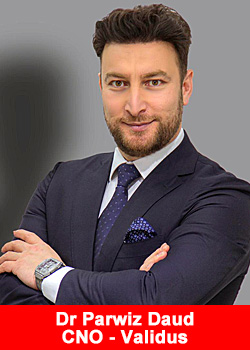 Validus is growing exponentially, but the company is making huge strides in adding to its pool of talent.
Today, Validus announced their latest addition to the team and the first of 2022. Howard Friend, CEO and Director of Education, appointed Dr Parwiz Daud as the Chief Network Officer (CNO).
Dr Daud, a medical doctor by profession, chose to leave the world of medicine behind around seven years ago. Discouraged by the industry's practises, he embarked on a journey to help prevent chronic diseases rather than treating symptoms. His philosophy is to assist people to take control and improve their economy. He believes this will lead to better education and better life choices, leading to a healthier lifestyle.
Born with an entrepreneurial spirit, he juggled running his own business and studying throughout his life. However, in network marketing, he found his calling and a platform to realise this dream. Founder and CEO of multiple ventures, Dr Daud is not short of experience.
Since joining the industry, he has amassed a wealth of experience and has soared into the upper echelon of the network marketing industry. Ranking as high as number twelve on our top one hundred MLM earners, he is no stranger to success.
Howard Friend, CEO and Director of Education at Validus, spoke about the latest addition to the team, stating:
"It is a point of pride for us to have a leader of this magnitude sit at the helm of our network. A man who has previous experience overseeing a network of over three million people plus is very rare to find, even in this industry.

It is exciting to think about what we can achieve with a charismatic personality like Dr Daud in the coming years. "
On his new appointment, Dr Daud was keen to express his excitement.
"I am committed to my role as chief network officer; I am committed to serving the people in our network. What I see in Validus is the potential to play a big role in the new direction of the industry."
About Validus
Validus is a network marketing company that provides online education on the financial markets to educate those who are underserved by financial institutions globally.
Validus prides itself on delivering a unique payment and reward programme that pays out those who choose to network and even those who choose not to. For more information, please visit teamvalidus.com.
Recommended Distributors Validus