Miluska Lee From Peru Achieves Black Diamond Rank At OmegaPro
March 5, 2022
By Team Business For Home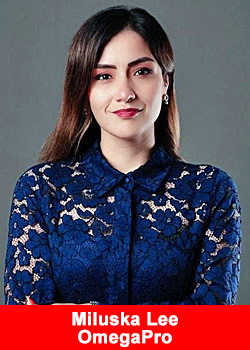 With less than three years in the world of network marketing, Miluska Lee is not only a professional financer but a professional networker internationally known for her results.
Her inclination for numbers and her passion for everything she does, guaranteed her scholarships in great universities like San Ignacio de Loyola in Peru, where she studied Hotel Administration and the Kookmin University (국민대학교) in South Korea, where she studied Business and Economy.
However, after living a life focused on her work alone, she realized what she really wanted was to transcend. She wanted to use her financial ability to help other people make money. That's why she joined OmegaPro and her team Momentum Pro.
"With less than three years of experience in network marketing, what I learned was that it is not about accumulating years, it's about accumulating experiences, accumulating mistakes, and hours of practice that you can accelerate with pure massive action.

In these three years, I jumped, but I jumped to do it professionally, to do it massively, to give it my all. To believe in the company, in my organization, in myself, and in the industry. All of these beliefs together have allowed the explosion that we are having today."
Nowadays, her team is not only in Peru but in more than fifteen countries. Also, they are big teams that keep on growing. Miluska's main goal is that Momentum Pro has representation in all the countries where the company is. Always with the goal to help the largest number of people achieve their financial freedom.
"At the end of next year, our goal is to have at least one thousand people with a Diamond rank in Momentum Pro. We now have approximately fifty Diamonds and the growth is exponential. I believe we will have one hundred this year at least. I don't see it as unreachable." 
"Where there is a person with a very strong longing, there we will build. Where there is a person with a hunger to conquer the world, to work with intensity, there we will be. It's not about your past achievements nor how much experience you have.
It's about how much passion you have at this moment. I am looking for those visionary and passionate people that are ready to take the reins of their destiny and activate today."
About OmegaPro
The mission of OmegaPro is to deliver a secure world class trading experience to all clients – both retail and institutional. We continually invest in new technologies and people, to provide our clients with a diverse range of trading products and exceptional trading outputs.
Moreover, we put a major emphasis on account security – we use the most advanced tools and encryption protocols and provide plentiful market liquidity to ensure your capital. Thanks to the vast market volume that OmegaPro handles and our strict risk policies, we can ensure that your account with us is secure, while connecting you to the fast paced global markets.
For more information please visit: www.omegapro.world.